(HARLINGEN) – Daniel Gonzalez's journey at Texas State Technical College began his junior year of high school when he started taking college classes to complete his Academic Core by his high school graduation in 2016.
The 19-year-old, Mercedes native is now a Business Management Technology student at TSTC and expects to earn his associate degree in December 2018.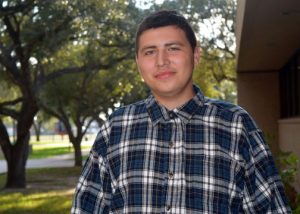 What are your plans after graduation?
After I graduate I plan on returning to TSTC's University Center to get a bachelor's degree in Business Administration.
What's your dream job?
At the moment my dad has side welding and yard-cutting businesses and I help him with the customers, so I feel that with my education and this experience I will someday be ready to open my own business.
What has been your greatest accomplishment while at TSTC?
My greatest accomplishment so far has been earning my first perfect 4.0 grade-point average a couple of semesters back. This opened my eyes and made me realize that I can accomplish more than I think I can.
What greatest lesson have you learned about yourself or life?
The greatest lesson I have learned is that life is too short to hold on to grudges and that we should work toward forgiving and forgetting. A wise veteran and friend shared this wisdom with me before he passed  away a couple of years ago and I've carried it with me since.
Who at TSTC has influenced your success the most at TSTC?
The person at TSTC who has influenced my success the most is Esmeralda Cisneros, textbook representative and cashier at the bookstore. She is always there to lend a hand and she does it with a smile. She is also a great listener, encourager and motivator. I consider her a friend.
What is your advice for future TSTC students?
My advice for future TSTC students is to never give up, always keep trying. At the end of everything you will benefit from your hard work.