(HARLINGEN) –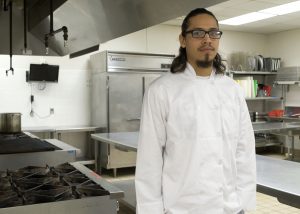 Working full time to pay for school and being a part-time student has been a challenge for Texas State Technical College Culinary Arts student Oliver Diaz, yet he still holds a 3.0 grade-point average.
The 22-year-old, Mercedes native said as a child and even now he is fascinated by the culinary world and combined with his love for food, he knew TSTC's Culinary Arts program was the right fit for him.
What are your plans after graduation?
After I graduate with my associate degree I plan on returning to TSTC to pursue Business Management Technology.
What's your dream job?
My dream job is to open a restaurant/catering business. It's a long way from my original dream of becoming an architect, but I'm excited for my future in the culinary industry, it's where I'm meant to be.
What has been your greatest accomplishment while at TSTC?
My greatest accomplishment was simply starting college to pursue a degree. After high school I worked immediately to help my parents and save money for college. I liked working so much that college wasn't even in the picture, but with encouragement from my girlfriend, here I am.
What greatest lesson have you learned about yourself or life?
The greatest lessons I have learned are patience and endurance. Patience because I know as a part-time student it's going to take me longer to finish and endurance to keep going.
Who at TSTC has had the greatest influence on your success?
My girlfriend and TSTC student and Orientation Student Leader Yajaira Gonzalez is my greatest influence. If it wasn't for her I wouldn't be here. I admire her for all of her success and it makes me want to become a better person for her. She pushes me to keep going and is my support.
What is your advice for future TSTC students?
My advice for future TSTC students is to not fall under pressure, be patient and stay focused.