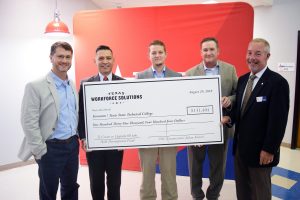 (MARSHALL) – Texas State Technical College has partnered with Komatsu Mining Corp. in Longview to train 60 workers using a $131,404 Skills Development Fund grant from the Texas Workforce Commission.
Julian Alvarez, Texas Workforce Commissioner Representing Labor, presented the check to officials from TSTC and Komatsu at a 10 a.m. ceremony Wednesday, Aug. 29, at TSTC in Marshall.
"This celebration represents another textbook example of the great state of Texas continuing to support the workforce and industries that drive the state's booming economy," said TSTC Provost Bart Day.
The training was designed specifically to meet Komatsu's needs and will be provided by TSTC instructors. Trainees will include data terminal operators, fabrication machine operators and quality control inspectors. Upon completion of training, the workers will receive an average hourly wage of $18.99.
Komatsu Manufacturing Engineering and Manufacturing manager Kraig Green said he is glad to show that Komatsu is willing to invest in its community.
"We see people who understand we are willing to hire and train to invest in this area," Green said. "We don't have to bring people in from big metropolises like Dallas to get skilled labor. It's right here."
Wayne Mansfield, president and CEO of the Longview Economic Development Corp., said partnerships are a critical part of development.
"Workforce development is by far the No. 1 critical issue, not just here in Texas, but all over the country," Mansfield said. "Establishing the foundation for workforce here is important to the continued success of Longview, Gregg County and East Texas."
Commissioner Alvarez said he is happy that Texans have options for career education.
"Anyone that knows me will tell you that I'm a huge supporter of career and technology education and will always support associate degrees and certificates," Alvarez said. "Technology is changing every day. … TSTC is keeping up with those changes. We appreciate that. They have an impeccable reputation with us."
Overall, the grant will have a $3.9 million impact on the East Texas area.
Komatsu (https://mining.komatsu) is a global mining equipment and services provider. With a full line of products supported by advanced technologies, the company helps customers safely and sustainably optimize their operations. The company's equipment and services are used to extract fundamental minerals and develop modern infrastructure, as well as playing a key role in the construction and forestry industries.
The Skills Development Fund is one of the state's premier job training programs, keeping Texas competitive with a skilled workforce. For more information on TSTC's workforce training, visit tstc.edu.