(FORT BEND) – Administration officials at Texas State Technical College welcomed two new regents to the TSTC family during a dinner and special meeting of its Board of Regents at the college's Fort Bend County campus in Rosenberg last week.
The two new regents, Charles "Pat" McDonald of Richmond and Tiffany Tremont of New Braunfels, were sworn in after being appointed by Gov. Greg Abbott in February for terms ending in February 2023.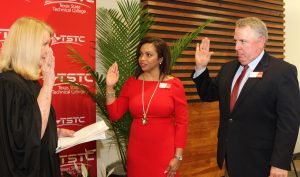 TSTC Board of Regents Chairman John K. Hatchel of Woodway was also reappointed by the governor; he was first appointed to the board in September 2011.
"TSTC is a great college that does great things," said McDonald. "I'm honored to be part of the work they're already doing, and my goal is to work closely with the board members in getting the legislative funding we need."
TSTC Chancellor Mike Reeser described McDonald as an asset to the board.
"Mr. McDonald's extensive professional experience in the not-for-profit sector and in economic development will be a great resource for the Board of Regents," said Reeser. "We're especially honored to have representation from Fort Bend County, which is home to our newest TSTC campus."
McDonald, who holds a bachelor's degree in agricultural economics from Texas A&M University, serves as president and chief executive officer of the Henderson-Wessendorff Foundation. He is also a member of the Texas and Southwestern Cattle Raisers Association, director of the Morton Cemetery Association and the Winston Foundation, and is a former trustee and chair of the George Foundation.
Tremont, who is founder, president and CEO of Silotech Group Inc., said she is excited about her new appointment.
"I'm honored to have been trusted by the governor's office for this appointment," said Tremont, a service-disabled veteran of the U.S. Air Force. "My goal is to grow the number of women who pursue cybersecurity and science, technology, engineering and mathematics educations and careers."
Tremont holds a Bachelor of Science degree in information systems management from the University of Maryland University College, where she is completing a Master of Science degree in cybersecurity management and policy. She is a former vice president of the Young Alamo chapter of the Armed Forces Communications and Electronics Association (AFCEA) and a former president of the National Association for Female Executives San Antonio.
"Ms. Tremont brings leading-edge-level technical experience and has achieved an outstanding level of professional success," said Reeser. "Likewise, TSTC has robust offerings in IT and cybersecurity, so we're excited to have her unique perspective as part of our governing body."
Hatchel, who is serving his second term, is also the former chairman of the TSTC Board of Regents' Finance Committee.
Before retirement, Hatchel served for 33 years in municipal administration in various cities in Texas, including Abilene, Plainview and Waco.
He holds a Bachelor of Science degree from West Texas State University (now West Texas A&M University). He is a life member of the Texas City Management Association and the International City Management Association, and a member of the Brazos Higher Education Service Corporation, Texas Legal Board of Directors and the State Bar of Texas Standing Committee on Minimum Continuing Legal Education.
"I am very pleased and glad that I was appointed for another term," said Hatchel. "It's great being a part of the TSTC family and working toward creating a quality workforce for Texas. I am very passionate about what the college does, and I sing praises about TSTC wherever I go."
Hatchel added, "I always tell people that the way you spell TSTC is J-O-B-S."
Leaving the board is Joe M. Gurecky of Rosenberg, appointed in 2006 and reappointed in 2011, and Joe Hearne of Dallas, appointed in 2006 and reappointed in 2011.