(FORT BEND) – Carlos Velasquez is described as a skilled welder by his instructors and peers at Texas State Technical College.
The Wharton native is a Welding Technology student and is expected to earn his certificate during TSTC in Fort Bend County's first commencement ceremony in August.
The 19-year-old first discovered TSTC when college recruiters did a presentation at Wharton High School. By this time, Velasquez had already began welding with his uncle and knew it was a career he wanted to pursue.
"I'm a guy who likes to work with his hands," said Velasquez. "So when I discovered I liked welding and was good at it, I went with it and TSTC was there for me."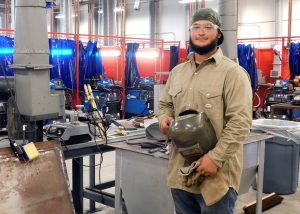 Velasquez said had it not been for TSTC, he would not even be in school. The night classes offered at TSTC's Industrial Technology Center have helped him achieve his goal of a college education.
"Night classes are convenient especially because I have to work full-time to be able to pay for college," said Velasquez. "TSTC has made it possible for me to get an education."
Velasquez works at INFRA Technology, a provider of economical technologies for the production of synthetic fuels from natural gas, as a pipeline welder in Wharton. He also does welding work for side projects requested throughout his community.
"I'm working toward a stable job and future," he said. "And TSTC is helping me fulfill those goals."
Velasquez also credits his welding instructors and his family for his success during the program.
"My instructors give us the freedom to be creative in the shop and practice our skills," said Velasquez. "And my parents support all of my efforts even helping me purchase a work truck complete with welders and tools."
He also added that the state-of-the-art machines and tools available to him on campus is his favorite thing about his program.
"Everything is hands-on. We have an actual welding shop filled with new machinery and tools we can use," he said. "Actually it was exactly this that helped me get the job I'm at right now."
Velasquez hopes to continue his education to pursue a bachelor's degree in Engineering, but not before working and getting experience in his field. He has his eyes set on Sunland, a local pipeline company.
"The company is close to home, I can get experience, there's room for growth and I can use my own welding truck, that's everything I want. I'm hoping for the best," he said. "Maybe someday I can even own a business. These dreams all started at TSTC."
To learn more about Welding Technology call 346-239-3452 or visit tstc.edu.