(HARLINGEN) – At Texas State Technical College, she's gone from student to alum to valued employee, and now Amanda Sotelo has been rewarded with the coveted Chancellor's Excellence Award – the highest award given to TSTC employees who model excellence and serve with distinction.
Sotelo is a communication specialist for the college, reporting and writing stories on TSTC student successes, programs and events for local newspapers and social media.
"I was surprised. I initially thought it was an assignment, as I usually cover stories about our honorees. I had to read it twice to fully understand that this time I was getting the award," said Sotelo. "I am so grateful."
Sotelo was nominated by her supervisors and colleagues who recognize all she does to promote the college both in the Harlingen and in the Fort Bend County media markets.  Her stories, highlighting students, employees and alumni, are published across the state and help with recruiting.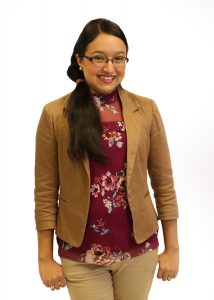 "She's a bit of an overachiever. She has an extraordinary work ethic and a real passion for the art of writing," said Executive Director of Communication Lynda Lopez. "But more than that, Amanda always exudes joy and happiness. She's a pleasure to have in the office, and she's beloved by TSTC colleagues in Harlingen and across the state."
Sotelo graduated from TSTC in 2008 with an associate degree in Digital Media Design and went on to UTPA to get her bachelor's in Mass Communications in 2011.
As a student at TSTC, she was very active and served as vice president for the Student Government Association. She also got a work-study program job in the business office, and later at UTPA she worked as a marketing assistant for the Student Union and as a writer for the Public Affairs office. It was there she realized she wanted to work in higher education.
"I love telling stories about people. Everyone has a story, and it's humbling to be trusted to tell that story," explained Sotelo. "Students and employees open up to me and tell me about their most difficult and most beautiful times. I cry with them and laugh with them. They bare their souls to me, and I am honored."
Sotelo is quick to credit others for her success, including her third-grade teacher, Mrs.  Montelongo, who first recognized her writing talent; her husband and high school sweetheart, Andy Sotelo; and her parents, Juan and Olga Perez of Harlingen.
"My parents take care of my son, AJ, so I can devote myself to my work. I can commit to staying late, working weekends and traveling for my job knowing my son is in good hands," explained Sotelo. "My husband also helps so much, taking over when I'm away and never complaining. I share my award with them."
And Sotelo says she's thankful for TSTC.  As she points out, it's easy to be a great employee when you love your job.
"I love TSTC. I grew up here. I'm so lucky to have such a rewarding job and work with people who have become family. I love our students. They come here to learn from us, but I have done so much learning from them," said Sotelo.
Sotelo is one of five TSTC employees from Harlingen and 16 statewide who received the 2018 Chancellor's Excellence Award. All will be honored at the National Institute for Staff and Organizational Development banquet to be held in Austin next month.