(HARLINGEN) –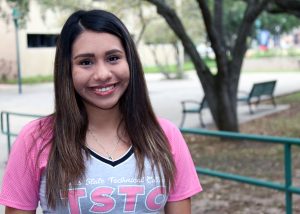 Amber Briones is pursuing an associate degree in Business Management Technology at Texas State Technical College. The Brownsville native is active around campus as a work study at the Wellness Sports Center, president of the Intramural Sports Club and a volunteer for Student Government Association and New Student Orientation.
The 18-year-old recently received awards at the Student Leadership Banquet for her involvement on campus and volunteer work throughout the community. She received a TSTC Service Squad award for logging more than 40 volunteer hours and winning two awards on behalf of her club: Most Active Club and the President's Volunteer Service Award for more than 500 volunteer hours.
What are your plans after graduation?
After I graduate from TSTC I plan on transferring to Texas A&M-Kingsville, through TSTC's University Center, to get a bachelor's degree in accounting and in communication science.
What's your dream job?
I have two dream jobs and that's what I'm working toward. I want to become a certified public accountant so I can open up a CrossFit gym and I also hope to become a speech pathologist to help children and adults.
What has been your greatest accomplishment while at TSTC?
My greatest accomplishment at TSTC so far has been my involvement on campus and in the community. I am doing things that I never expected before coming to TSTC. I used to be really shy, but my participation in different organizations has helped me grow as a communicator and a person.
What greatest lesson have you learned about yourself or life?
The greatest lesson I have learned is that no matter how hard life gets or what challenges we face, we have to get up and keep going.
Who at TSTC has had the most influence on your success?
There are so many people here at TSTC that have influenced my success, but the person that stands out the most is my supervisor and Intramural Program Coordinator Joe Garza. He is always encouraging me and pushing me to remain active on campus and do things I never thought I could, like becoming president of our club. He gets me out of my comfort zone because he says that is where success lies.
What is your advice for future TSTC students?
My advice for all students is to always look on the bright side, encourage others and remain positive.