(HARLINGEN) – With tear-filled eyes, Cecilia Mendez's mother recently had the honor of pinning her daughter during Texas State Technical College's Fall 2016 Medical Assistant Pinning Ceremony.
"Today reflects the hard work that my daughter has put into her studies," said Lucero Mendez. "I'm so proud of her. I've always dreamed of a special day like this for my daughter. I knew she could do it."
The pinning ceremony signifies a student's official initiation into the brotherhood and sisterhood of medical assistants.
Mendez was one of 14 Medical Assistant students who were pinned at the ceremony. She also had the honor of being selected the class's keynote speaker.
"Speaking to you tonight is a privilege. We have really formed a family," Mendez told her fellow classmates and instructors. "I want to thank all of you for your support. We've done this together. And of course to m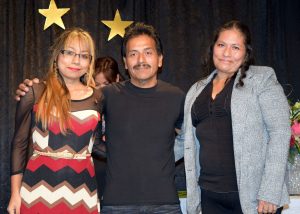 y parents, thank you for always believing in me and my decisions."
The 21-year-old was selected as speaker by her Medical Assistant Instructor Cinthya Valdez.
Valdez said Mendez was selected for her leadership and service to the program and community.
"Cecilia always goes that extra mile and shows a true desire to learn," said Valdez. "She wants to eventually become a nurse and I think she will make an excellent one. We are very proud of her."
Valdez said Mendez has been actively involved in the Medical Assistant Student Club and has made herself available for every community service event, and has contributed greatly with donations for the annual Christmas toy drive.
Despite her enthusiasm, life was not always easy for Mendez during her time in the program. The Brownsville native worked the graveyard shift at a nursing home in her hometown, giving her an average of only three hours of sleep per night after homework and studying.
Additionally, Mendez suffered the significant losses of a couple of her biggest supporters.
"Both my nephew and my grandmother passed away. They always believed in me," said Mendez. "My success is their success. I promised them I would finish and make my dreams come true, and that is what I plan on doing for them."
Mendez is already looking forward to beginning her career at Valley Children's Center in Harlingen as a medical assistant. She received her job prior to graduating from the program.
What else is in her future?
"I'm already looking into the LVN program here at TSTC," she said. "I hope I get in. Ultimately though, I dream of becoming a registered nurse."
The Medical Assistant Pinning Ceremony is held annually to recognize and honor students like Mendez, who have completed all required coursework and clinical hours needed to graduate from the program.
Following the pinning ceremony, students read the medical assistant creed, a vow all aspiring medical assistants take promising to aspire, protect, dedicate, strengthen and remain true to their profession, while holding a lighted candle, which symbolizes service and caring.
"The lighting of the candle is the passing of knowledges and symbolizes the bright light of hope these students will be for their patients," said Alicia Lugo, medical assistant department chair.
"This is a celebration of the hard work and dedication it takes students to enter the profession," she said.
Mendez and her peers were among the 253 students who graduated at TSTC's Commencement Ceremonies Friday night held at Marine Military Academy.
For more information on the Medical Assistant program please call 956-364-4806. Registration for Spring 2017 is in progress. You can apply or register anytime at tstc.edu.