(HARLINGEN) – Texas State Technical College recently received one of the single largest donations for its Texan Success Scholarship.
Brownsville native Mike Hernandez, founder of the Hernandez Foundation, presented TSTC with a $100,000 check to be used for scholarships.
"We are so grateful to t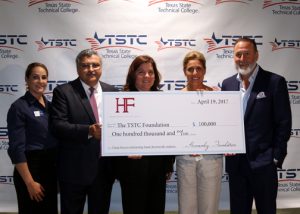 he Hernandez Foundation for their early support for the Texan Success Scholarship campaign," said TSTC Senior Development Officer Amy Lynch. "These funds go a long way in helping our students achieve their dream of going to college. This is a big step forward in our goal but we still have work to do and we know this large gift early on is just a sign of great things to come."
The funds from this donation will be used for scholarships to help assist new, full-time students from Brownsville pursuing science, technology, engineering and mathematics (STEM) fields at TSTC with tuition and other expenses.
All donations made to the Texan Success Scholarship campaign are matched dollar-for-dollar by the college. Matching funds will be available to benefit all incoming TSTC students.
"We appreciate Mike Hernandez for his support of our institution," said TSTC Provost Dr. Stella Garcia. "With TSTC matching funds, this donation turns into $200,000, meaning that 400 students will benefit from this donation."
Hernandez said he knew he had to support TSTC after taking a tour of its engineering center classrooms and labs.
"I'm very impressed with the way TSTC is doing things," said Hernandez. "I'm proud to support
TSTC's efforts because everything starts with an education."
Through his Project OP10.33 and his foundation, Hernandez is committed in his mission of educating every child in the community beyond a high school diploma and increasing business growth to create good-paying jobs.
David Estrada, a past Texan Success Scholarship recipient and Architectural Design and Engineering Graphics student, gave his testimonial at the event on how these funds have changed his life.
"Going to college meant that my parents would have difficulty providing for my college expenses and also providing for my siblings. So receiving the Texan Success Scholarship was a huge relief for my parents," Estrada said. "This meant that I could be the first college-educated individual in my family."
Estrada added that the scholarship is a blessing and he finds himself more motivated to show his instructors his potential. He is also excited about being able to purchase his first laptop computer soon.
For more information on the Texan Success Scholarship or to donate, call The TSTC Foundation at 956-364-4500.