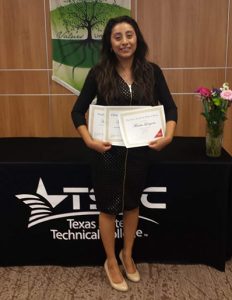 (BROWNWOOD) – You can do anything you set your mind to. That is what Marlen Longoria, who will graduate from Texas State Technical College on Friday, believes. The Santa Anna, Texas, resident grew up in Acuna, Coahuila, Mexico, and moved to Texas in 2009.
"Two or three years ago, I got my GED, thanks to my mother-in-law," Longoria said. "She always encouraged me to start again, to get my driver's license first and then to get my GED. She said, 'Well, you have a brain. You can go to college.'"
Longoria did some research, found TSTC online and visited the campus. She chose to study TSTC's Software & Business Management Accounting.
"One day we came here to look for information," she said. "I took two years of accounting in Mexico, and that's why I decided to study it here. I like it."
Longoria served as vice president of Phi Theta Kappa, the international honor society of two-year colleges and academic programs, and was a member of the Student Government Association. She will graduate with a 4.0 GPA. While she was part of the SGA, the group established a food and clothing pantry on campus to help other students.
"We always try to do community service," Longoria said. "This year we have more members and we're really active."
Longoria will join nearly 150 other students from TSTC's West Texas campuses in walking the stage at the spring commencement ceremony, which will be held at 7 p.m. Friday at the Abilene Civic Center.
After graduating, Longoria plans to attend Howard Payne University to pursue a bachelor's degree in accounting. She chose one word to describe her experience at TSTC: awesome.
"It's so much more than I expected," she said. "The people here are great. They always have a smile on their faces and they always made me feel a part of it. My English isn't great — it's not my first language — but they always made me feel comfortable. The instructors have always been patient with me. It's been a great experience, and they gave me the confidence to continue my education!"
Longoria offered some words of advice to TSTC students and those considering TSTC.
"Never give up," Longoria said. "There's no problem that is bigger than your dreams."
TSTC in Brownwood is currently enrolling for all programs, including Chemical Dependency Counseling, Computer Aided Drafting & Design, Computer Networking & Systems Administration, Database & Web Programming, Emergency Medical Services, LVN-RN Transition, Medical Office Specialist, Software Accounting & Management and Welding. Summer registration continues through May 1. Fall registration ends Aug. 21.
For more information on TSTC and programs available, visit tstc.edu.