(HARLINGEN) – Lilia Perez, 36, is a Business Management Technology student at Texas State Technical College. The Brownsville native currently boasts a 3.7 grade-point average and is expected to earn her associate degree Spring 2018.
What are your plans after graduation?
I am remaining hopeful that after I graduate from TSTC I will be able to explore opportunities through TSTC's University Center. The school's partnership with several universities gives students such as myself the opportunity to keep pursuing higher education. It would be great to continue my studies and obtain a bachelor's degree in Business Administration.
What's your dream job?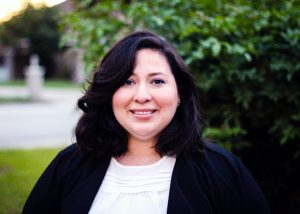 There are so many different things I could do and I believe hobbies are a good way to explore my options. I'll have to say my dream job is to build miniature sets for movies. I'm a sucker for miniature replica models, arts and crafts and have an eye for great detail.
What has been your greatest accomplishment while at TSTC?
My greatest accomplishment was simply enrolling at TSTC. I'm just happy to be here and privileged to be able to stress out about words counts and final exams.
What greatest lesson have you learned about yourself or life?
I have learned to persevere. In 2006 a car accident claimed the life of the father of my girls and someone who had been a part of my life for almost a decade. I lost myself due to grief and life was passing me by and we were missing out. I now try to build as many memories as I can with my girls.
Who at TSTC has had the greatest influence on your success?
I have to give a lot of credit to Dr. Steven Szymoniak, my business technology instructor. His classes are challenging and tough, but fair. A student can learn a bit about themselves while navigating his course work. He gives great feedback and continuously pushes us to strive to a higher caliber in class and in life.
What is your advice for future TSTC students?
A few pieces of advice come to mind. First, get out of your comfort zone and get involved on campus and in your communities to bring positive change. Also, always remember that life does not follow a script, so go with the flow and make the most of what you have.