(HARLINGEN) – After a long-time break from college, Harlingen native Yesenia Maldonado is now a student at Texas State Technical College pursuing her General Academic Core.
The 27-year-old single mom of four holds a 3.4 grade-point average while working part time at a farm and as a provider for her disabled mother. She is expected to complete her classes in Spring 2018.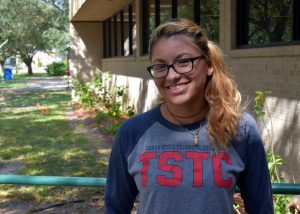 Maldonado said TSTC is her stepping stone into her dream career that was inspired by her son's autism and ADHD diagnosis.
What are your plans after graduation?
After completing my classes at TSTC I plan on transferring to Texas State University to pursue a bachelor's degree in communication science disorders and a master's degree in speech language pathology.
What's your dream job?
My dream job is to become a speech therapist and help other kids the way my son was helped. My son didn't speak for a very long time because of autism and ADHD and I saw how hard everyone worked to give him the gift of speech. This is my way of giving back.
What has been your greatest accomplishment while at TSTC?
Personally, my greatest accomplishment was finishing my first semester of college and achieving A's and B's. I'm proud of myself. A lot of people told me I couldn't do it with four kids and working. And even though it's frightening and nerve wrecking, I am doing it for my kids and myself.
What greatest lesson have you learned about yourself or life?
I have learned that it is never too late for an education and I want my kids to learn that also with my example. I never felt school was in my reach, but with dedication and confidence in myself I have been able to pick myself up, no matter what life throws my way, and work toward making my dreams come true.
Who at TSTC has influenced your success the most?
There are so many, I feel like I can't name them all, but the ones that stood out were my composition instructor Heather Stuart, social and behavioral science instructor Richard Kirk and my government instructor Elizabeth Bryant. They all have a great attitude toward our learning and understanding of the material and they are always willing to help and give advice.
What is your advice for future TSTC students?
Don't be intimidated by your instructors, they're there to give you advice and motivation when you feel like giving up. Also, build a strong support system, whether it's family or friends because I wouldn't be where I am today without my mom and stepdad.