(FORT BEND) – Texas State Technical College Electrical Lineworker Technology will have a nearly two-acre training facility when the program begins August 2017, all thanks to CenterPoint Energy.
The Houston-based electric and natural gas utility company has donated 50 utility poles and electrical lines for students to utilize in hands-on training.
"CenterPoint Energy has been eager to help us right from the beginning," said TSTC Field Development Officer John Kennedy. "CenterPoint Energy's generosity will allow us to reallocate our resources in our new Electrical Lineworker Technology program to enhance the students' learning experience."
The training yard will mirror that of CenterPoint Energy's training center for its employees and will include two circles of 15 poles with additional practice lines.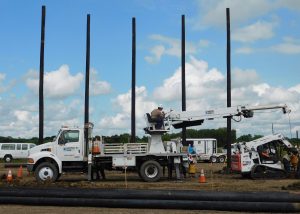 "CenterPoint Energy was thrilled to participate in TSTC's lineworker program. It's a great opportunity to help them get started," said CenterPoint Energy Director of Training and Development Don Matthews.
It is also CenterPoint Energy employees who are handling the installation.
"This gives our employees additional practice in setting the poles, but helps TSTC get their training program off the ground," said Matthews. "It's a win, win."
TSTC's Electrical Lineworker Technology Instructor Troy Eads said he has had the pleasure of working with CenterPoint trainers and he is very appreciative of the opportunities they have given students with their donation.
"We can't say thank you enough to CenterPoint Energy," said Eads. "They have had their employees on campus working hard at installing our yard pole set in the rain and mud. This donation really gives our program the chance of providing our future lineworkers a real-world experience and the hands-on training they need for a successful career."
TSTC Electrical Lineworker Technology will make its debut in the fall and will be located in TSTC's newest building, the Brazos Center.
The program will include a certificate and associate degree track and will prepare students for one of the most physically demanding, but highest-paying careers in the nation.
Students will learn how to safely use lineworker climbing equipment and tools while practicing in an authentic utility training environment.
"We, and other companies are looking for skilled, quality workers and it is our belief that these graduates could potentially be good candidates for us or other companies in the area," said Matthews.
The United States Bureau of Labor Statistics shows that Texas employs the most electrical lineworkers than any other state and also shows that employment is expected to grow six percent from 2014 to 2024.
"Because of CenterPoint's innovative thinking, our students will not only be well-trained, but they will also have a viable option for excellent employment after they leave TSTC," Kennedy said.
Electrical Lineworker Technology is also offered at TSTC's Marshall and Waco campuses.
For more information or to register for Fall 2017 visit tstc.edu.