(HARLINGEN) – Celina Elizondo is a biology major at Texas State Technical College. The 19-year-old expects to receive her associate degree Fall 2017 and currently boasts a 3.1 grade-point average.
When the Brownsville native is not studying, she is working with New Student Orientation and welcoming new generations of students to TSTC.
What are your plans after you graduate?
After I graduate with an associate degree in Biology, I will return to TSTC to pursue another associate degree in Agricultural Technology. Once I am done with that I will transfer to Texas A&M Kingsville to work toward a bachelor's degree in Agriculture-Pre-Veterinary Medicine.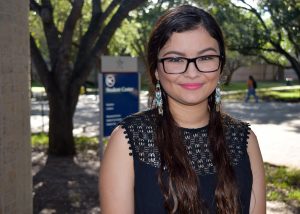 What's your dream job?
My dream job is to be a veterinarian. I want to be able to afford a large plot of land with a big house so I can open an animal rescue facility and I can help save animals' lives. My interest in animals stems back from my childhood, growing up on my uncle's ranch. I recall the days I would bring animals home to nurse back to health. It drove my mom crazy, but she always helped me.
What has been your greatest accomplishment while at TSTC?
My greatest accomplishment while at TSTC has been my work-study job with New Student Orientation. I have always been a shy person, but this job has taught me to have a voice, meet new people and make new friends. It definitely has helped me grow as a person and has given me more confidence.
What greatest lesson have you learned about yourself or life?
The greatest lessons I have learned are about organization, time management and responsibility. I have found these all to be important assets to my success in school and at my job. They help me do my best in everything and these will be lessons I will carry with me for the rest of my life.
Who at TSTC has had the most influence on your success?
The person who has had the most influence on my success is Larissa Moreno, TSTC New Student Orientation coordinator. Thanks to her I have learned my greatest lessons and she really boosts my confidence with her positive spirit. She always makes me feel like I can do anything I set my mind to.
What is your advice for future TSTC students?
I encourage everyone to attend TSTC. You receive a great education, if not better than anywhere else, while saving money because it is so affordable. I also urge future and current students to always ask questions, join clubs and make new friends. These are great experiences that will also help you in future endeavors.