(HARLINGEN) – It was already a big night for Itati Fernandez who was celebrating the completion of the Texas State Technical College Surgical Technology program with her 12 other peers. But it became a night to remember when she was unexpectedly named program valedictorian because of her 3.6 GPA.
"I didn't even know valedictorian was a thing in college," Fernandez said with a laugh. "I was so surprised. It was a very emotional time for me. I couldn't be happier."
With tear-filled eyes Fernandez stood in front of a full auditorium to thank her instructors, classmates and family for the support she got throughout the program.
"There were many occasions where I wanted to give up. It was so hard," she said. "But everyone kept me motivated and didn't let me give up. This is the first of many more accomplishments."
The 22-year-old has a job offer at Rio Grande Regional Hospital in McAllen as a surgical technologist pending a passing score on her certifying exam.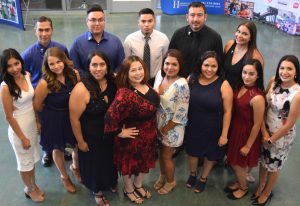 She will also be continuing her education at the University of Texas Rio Grande Valley to pursue a bachelor's degree in biology with the goal of being accepted into the university's physician assistant master's program.
Nancy Garcia, Fernandez's mother, said she couldn't be prouder of her daughter's accomplishments and drive to succeed.
"I call this her short-term goal and I knew she could reach it," said Garcia. "I'm so happy right now and so proud of my daughter. I know this is only the beginning."
TSTC Surgical Technology lead instructor Anna San Pedro called this an impressive achievement considering the intensity and difficulty of the surgical technology curriculum.
"The work ethic and discipline that she displayed while in the program was the winning formula to her success," said San Pedro. "The faculty and I are confident that she will continue to find success in all future endeavors and will be an asset to the industry of Surgical Technology."
The pinning ceremony also included the presentation of pins and Surgical Technology graduates taking the Surgical Technologist Pledge, the presentation of the Preceptor of the Year award to Gina Tijerina from McAllen Medical Center and a message from guest speaker, pharmacist and TSTC alumnus Michael Muniz.
Muniz graduated from Surgical Technology in 2004 also top of his class and is a now a pharmacist at family-owned Muniz Rio Grande Pharmacy in Harlingen. He said TSTC will always have a special place in heart.
"TSTC gave me the foundation I needed and it's great to be back as a speaker and I hope I can become a mentor for these students and future generations of surgical technologists," said Muniz. "And my hope for these students is that they continue learning and stay goal-oriented."
Robert Sanchez, TSTC Surgical Technology program director, left his graduates with one final note at the end of the event.
"Your future will be determined by the opportunities that you encounter and how you are able to embrace them," he said. "You have your career in your hands, how you work with it and pursue your dream is up to you."
"Congratulations," he added. "Be the best technologist you can be and always be a patient advocate."
For more information on Surgical Technology or to register visit tstc.edu. The last to day to register is August 21.