(HARLINGEN) – Kevin Sauceda is a Digital Media Design student at Texas State Technical College. The Brownsville native is expected to earn his associate degree Summer 2018 and currently holds a 3.2 grade-point average.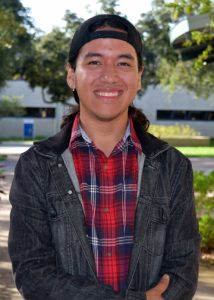 When the 23-year-old is not busy studying or finishing projects in the graphic design and video editing labs he works as a work-study with the Talent Management and Career Services office. He is also vocalist for a local band.
Sauceda began his college career at the University of Texas at Brownsville as a vocal major, but soon realized he needed to find a career with stability and transferred to TSTC, where he said he found his place.
What are your plans after graduation?
After I graduate I plan on moving to San Antonio or Austin and hope to find a job at an advertising agency where I can work as a video editor. In the near future I also hope to earn a bachelor's degree in filmmaking.
What's your dream job?
My dream job is to be a touring musician and get paid good money, but realistically it may not happen and that is why I came to TSTC – to find a steady career and good-paying job in something that I have always loved.
What has been your greatest accomplishment while at TSTC?
My greatest accomplishment while at TSTC has been working at Career Services and helping students find jobs after they graduate. I love getting the thank you phone calls after they get a job. It makes me feel like I have made a difference in someone's life.
What greatest lesson have you learned about yourself or life?
The greatest lessons I have learned are about time management and punctuality, and I learned that here at TSTC. Our instructors instill in us to treat our class and our projects as we would a job, so that means being on time and meeting all deadlines. This is preparing and helping me in more ways than they will ever know.
Who at TSTC has had the greatest influence on your success?
The person who has had the greatest influence on my success is Jimmy Villarreal, one of my Digital Media Design instructors. He is always guiding me and giving me advice on classes, projects and my future. He helps me better understand the programs we use and truly cares about my success. He gives me hope in believing I can do whatever I set my mind to.
What is your advice for future TSTC students?
Don't be afraid to try different things or of change. Follow your heart to what you love and have a passion for, and no matter where you are in life that will help you find your place, the way I found myself at TSTC.