(HARLINGEN) – The Office of Workforce Education and Continuing Education at Texas State Technical College will offer a Heavy Duty Diesel Engine Specialist program that will launch in September.
This program is a first for TSTC's continuing education office and the only continuing education course of its type in the Rio Grande Valley.
"We're excited for this program," said Adan Trevino, TSTC Continuing Education Transportation Center coordinator. "It has been in the works for some time now and it's needed."
The new diesel program was created through a partnership with TSTC Automotive Technology program in Harlingen and the Diesel Equipment Technology program in Waco, which have assisted with curriculum and have donated diesel engines, semi-tractor trailers and lab space for hands-on training.
"We built this course around industry need," said Trevino. "These types of positions are in demand statewide and nationally."
The six-week course will offer day and night classes and will mirror Waco's diesel program. Every class is 90 percent hands-on training to prepare students for a career that could pay up to $50,000 to $70,000 a year.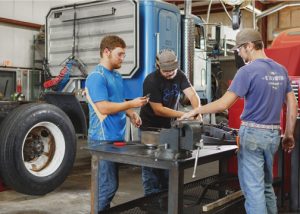 "We took courses TSTC offers in our diesel certificate programs and combined them into eight classes," said Trevino. "With this program you can earn a certificate in six weeks instead of one year."
Students who complete this program also have the opportunity to take the Cummings Engine Certification program online.
Trevino said earning this additional certification makes students more marketable and competitive when looking for jobs at dealerships and trucking companies.
"We have contacted some of the most respected companies to work with and asked them to give us industry advice," Trevino added.
Instructors, with more than 25-years experience in the field, and Trevino are working closely with companies such as Rush Truck Center, First Truck Choice, Swift, Longhorn Bus Sales and PetroChem Transport Inc. to customize training.
Garrett Wright, son of PetroChem Transport Owner Chris Wright, will be one of the program's first students.
The 18-year-old is familiar with TSTC since attending as a dual enrollment student in high school. Wright said he and his dad knew immediately that enrolling was the right decision.
"Our company works closely with TSTC already and we know the success that people see when they leave the college. So as soon as I heard about this program I enrolled," Wright said. "I know I'll run my dad's company one day so this will help me become well-rounded in the industry."
Students enrolled in the course can expect to learn diesel shop safety and procedures, diesel engine testing and repair, powertrain and diesel tune-up and troubleshooting and tractor trailer service and repair.
And because each six-week class is made up of only six to eight students, classes are small, allowing for more one-on-one with the instructors and an opportunity for students to learn from each other as well.
Those who successfully complete the course can find career opportunities in areas such as fleet maintenance, heavy equipment maintenance and dealership service.
"Our goal is to accommodate everyone who is looking to come back to school to fulfill their dream of an education the best way we can," said Trevino. "And we are so excited to get started and meet our first group of students next month."