(HARLINGEN) –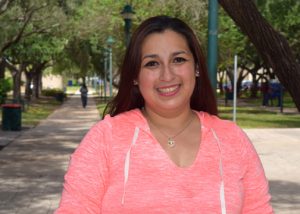 Texas State Technical College student Erika Gonzalez is a 31-year-old mother of two who is determined to show her children that it is never too late to pursue your dreams.
The Weslaco native is pursuing an associate degree in Biology and hopes to graduate Spring 2019.
In addition to studying, Gonzalez keeps herself busy by volunteering with the TSTC Service Squad and with the TSTC Cafeteria.
What are your plans after graduation?
After I graduate I will apply for the Dental Hygiene program. I'm a dental assistant and I'm ready to take my career to the next level.
What's your dream job?
My dream job is to work as a dental hygienist. It's my passion. I want to help promote the importance of oral health care and help boost people's confidence by helping them maintain a healthy mouth and smile.
What has been your greatest accomplishment while at TSTC?
My greatest accomplishment has been getting involved and becoming active on campus and in my community. Doing this has helped me break out of my comfort zone and realize new opportunities.
What greatest lesson have you learned about yourself or life?
Going to school, working and being a mom has not been easy, but it has taught me to keep pushing forward and never stop learning. I want to be a good example for my children so I must keep going and make my dreams come true so that they see everything is possible.
Who at TSTC has had the most influence on your success?
Everyone at TSTC has had an influence on my success, from the people who helped me register and my instructors to the folks at Student Life and the cafeteria. They have all given me so much motivation and encouragement. They are always there to help.
What is your advice for future TSTC students?
It's the same advice I give my children: take advantage of your educational opportunities, never give up, find your passion and make your dreams come true. TSTC is here to help. Faculty and staff truly care about their students.