(HARLINGEN) –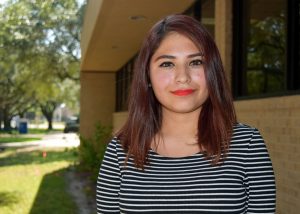 This is Texas State Technical College student Celina Cazares' first semester in college, but she is already proving herself with good grades and as an active member of the TSTC Service Squad and Agriculture Club.
The Brownsville native is a recent graduate of Lopez High School. The 18-year-old expects to complete her Academic Core by Spring 2019.
What are your plans after graduation?
I'm already looking into registered nursing programs. I want to study to be a nurse once I'm done with my academic classes. The idea of me being able to help others is what I love about nursing.
What's your dream job?
 My dream is to get my bachelor's degree in nursing, practicing my skills in a hospital or clinic and continuing my education for a master's degree and maybe even doctorate degree.
What has been your greatest accomplishment while at TSTC?
My greatest accomplishment so far has been being selected for the Student Success Profile honor. It has given me the confidence I need, and I hope someone will read my article and get inspired to enroll at TSTC.
What greatest lesson have you learned about yourself or life?
The greatest lesson I have learned comes from my parents, who always push me to do my best. They always tell me that if I want something to fight for it and not stop until I get it. So every time I run into an obstacle I remember this and I tell myself I can do better.
Who at TSTC has had the greatest influence on your success?
My Anatomy and Physiology instructor, Paul Leonard, and my Diet and Nutrition instructor, Michael Gay, have been my greatest influencers thus far. I love the way they teach and keep us engaged. They make a student want to come to class. And of course I need to mention my best friend since sixth grade, Angie Cruz. She's also a student at TSTC. She keeps me sane when I'm stressed and is one of my biggest motivators and encouragers.
What is your advice for future TSTC students?
I want future and current students to remember one thing: At the end of the day everything you do is your choice and the future is yours, so make the best of it.