(HARLINGEN) –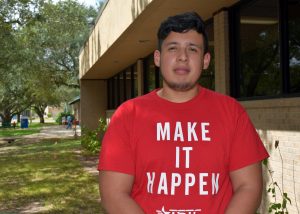 Eli Quintero, 21, is a recent graduate and current student at Texas State Technical College. He earned his first associate degree in Telecommunications Technology in Summer 2017 and has returned to pursue a second associate degree in Automotive Technology.
When the Los Fresnos native is not studying, he is a work study in the Office of Student Life with the New Student Orientation team and is an active member and treasurer for the Intramural Sports Club on campus.
What are your plans after graduation?
After I graduate I want to follow in my dad's footsteps and work at AT&T. He has had a successful 19-year career in telecommunications and I want that also. Once my career is established I want to continue my education to receive a bachelor's degree in telecommunications.
What's your dream job?
My dream job is to grow in my field and someday be a director and supervise a team. Also, I hope to use my automotive degree to improve in my hobby of collecting and refurbishing classic cars.
What has been your greatest accomplishment while at TSTC?
I'm a first-generation college graduate and student, so receiving my first degree has been my biggest accomplishment. I'm the oldest of six siblings and I hope my experiences are showing them that a college education is in reach and possible.
What greatest lesson have you learned about yourself or life?
I have learned that the key to college success, mine at least, is to get involved on campus. The more you are involved the more you learn and know, and the more you know, the more you can accomplish.
Who at TSTC has had the greatest influence on your success?
TSTC Business Management Technology student and Intramural Sports Club President Denice Molina has been my greatest influence. She's the one who encourages me to be active on campus and study and work hard. She keeps me motivated.
What is your advice for future TSTC students?
My advice for future students is to be active on campus and their communities, meet new people and make new contacts; it helps you grow as a person.