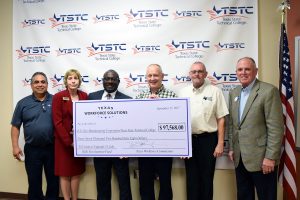 (BRECKENRIDGE) – Texas State Technical College has partnered with R.E. Dye Manufacturing Corporation of Breckenridge to train 51 workers using a $97,568 Skills Development Fund grant. The Breckenridge Economic Development Corporation provided a matching amount of $4,717, bringing the total to $102,285.
Dale Robertson, manager of the Office of Employer Initiatives at the Texas Workforce Commission, presented the check to officials from TSTC and R.E. Dye at a 2:30 p.m. ceremony held at TSTC's Technology Center on Wednesday, Sept. 27.
The training was designed specifically to meet R.E. Dye's needs in two critical areas: efficiency and aircraft manual updates. Training will be provided by TSTC instructors. TSTC has partnered with the West Texas Manufacturing Assistance Center (TMAC) to provide training for specific aircraft manual updates.
"This is allowing R.E. Dye to expand their customer base and go out and be able to work with more aircraft manufacturing companies to produce precision equipment for that industry," said Rick Denbow, interim provost at TSTC in West Texas. "We're so excited about this. It's great for Breckenridge, it's great for TSTC and it's great for all parties involved."
Robertson said it takes a team to bring an opportunity like this to light.
"It doesn't happen by ourselves," Robertson said. "It starts with the local folks, West Central Texas Workforce Solutions, Texas State Technical College, economic development partners and of course businesses."
Virgil Moore, executive director of the Breckenridge Economic Development Corporation, said they were glad to contribute.
"The Breckenridge EDC is proud to have participated in this," Moore said. "In addition to the $97,568 grant that comes directly from Texas Workforce Solutions, the Breckenridge EDC also contributed $13,517 to this project." ($8,800 was provided directly to the TMAC for their training.)
Overall, the Skills Development Fund aims to improve whole communities.
"You are able to get funding here that helps this community, this business and the businesses around upskill their workers, train them, retain their certifications and increase their skill sets, and that is really the essence of the Skills Development Fund," Robertson said.
Coby Dye, president of R.E. Dye Manufacturing Corporation, said the company is grateful for the opportunity the grant presents.
"I'd like to thank the Texas Workforce Commission, Workforce Solutions of West Central Texas, TSTC and the Breckenridge Economic Development Corporation for partnering to make this training possible," Dye said. "Everyone from these organizations went out of their way to make sure the grant happened in a timely manner to meet our training needs."
The Skills Development Fund is one of the state's premier job-training programs, keeping Texas competitive with a skilled workforce. For more information on TSTC's workforce training, visit tstc.edu.