(HARLINGEN) –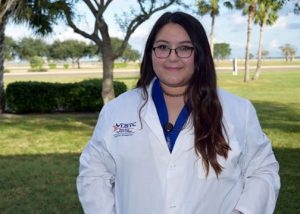 Melissa Lerma is a Surgical Technology student at Texas State Technical College and will receive her associate degree Summer 2018. She already has an associate degree from TSTC in Biology, which she earned in 2016.
The 20-year-old is also active on campus and with her church. Despite her demanding class schedule, she volunteers with her church delivering food and hosting food drives, in addition to fundraising with the TSTC Surgical Technology Club in order to attend the Association of Surgical Technologists annual conference.  She is currently the club's secretary.
The Weslaco native said she has always been fascinated with the human anatomy and how it works so she is glad that TSTC had just the right program for her.
What are your plans after graduation?
My goal is to get hired at a Valley hospital before even graduating and being able to start my career. I will also continue my education to become a Certified Surgical First Assistant and a Licensed Surgical Assistant.
What's your dream job?
My dream job is to become a Licensed Surgical Assistant and be the surgeon second hand in the operating room.
What has been your greatest accomplishment while at TSTC?
My greatest accomplishments while at TSTC were earning my first associate degree in Biology and being admitted into the Surgical Technology program. It's very competitive and I was one of only 19 who got accepted.
What greatest lesson have you learned about yourself or life?
The greatest lesson I have learned is to always have a positive attitude. I can honestly say that when I started looking at things positively and ignoring negativity, my life changed for the better.
Who at TSTC has had the greatest influence on your success?
My Psychology Instructor Frank Coronado is the person who helped me see life from a different perspective. I was unsure of my path or passion before his class, but then I had an 'aha' moment and I started being more positive, getting A's in my classes, building  stronger relationships and finding my passion.
What is your advice for future TSTC students?
My advice for future TSTC students is to always maintain a positive and good attitude, look on the bright side of things and never give up.