(HARLINGEN) – More than 80 percent of Texas State Technical College students living in housing on the Harlingen campus have been helped by the TSTC Staff Senate food drive since November.
Participation by TSTC staff, faculty, students and the surrounding communities has made the annual drive a success in helping to fight hunger.
"We are so thankful for the help we have received so far," said Staff Senate President Sharon Foster. "There is no need for a student to struggle with hunger."
The drive has benefited TSTC's Charlie's Pantry, which serves students living on campus, and the Student Center Pantry, which serves students who commute to campus.
Both pantries rely exclusively on donations of food and money received during the drive. Before the drive, both pantries were struggling to keep food in stock.
TSTC Housing Director Yvette Garza said the help they have received from the Staff Senate food drive is appreciated by those running the pantry and the students it serves.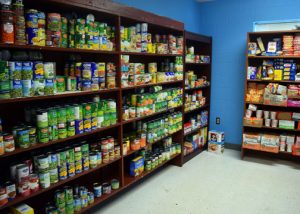 "We have been able to keep our shelves stocked because of the generosity of the campus and local community," said Garza. "We all need a little help every now and then, and these students are working so hard to complete their education. If our pantry can help take a small burden off of their shoulders, then we have fulfilled our purpose."
TSTC Executive Director of Student Life Adele Clinton and Student Life Coordinators Belinda Palomino and Larissa Moreno are also very thankful to the Staff Senate and community members for their donations.
"Student Life and Engagement would like to give a big 'thank you' to all those who contributed to the food drive," said Moreno. "With an average of more than 100 students seen each week, every item donated was stocked and received by our students. Thank you, Staff Senate, TSTC employees and community members, for your continued support."
Winter Texan Debra Bates, a resident of both Harlingen and Colorado, donated numerous bags of groceries for the drive after reading about TSTC's previous food drive in the Valley Morning Star.
"My first grandson recently started college. If he was hungry, I would want someone to help him," she said. "Students have enough to worry about without having to worry about food and being hungry, and it's awesome that donations like mine are helping these students."
Monetary donations totaling more than $200 have been made by community members.
"With our efforts we are trying to take care of our students and alleviate their hunger," said Foster. "We're here to help them succeed and not have to decide between food, tuition or books."
Recently Charlie's Pantry was able to obtain a large freezer to store more foods such as TV dinners.
The hunger problem is not unique to colleges in South Texas. In a study done by Wisconsin HOPE Lab and Feeding America, 50 percent of college students nationwide struggle with not having enough food, with the majority clustered in the low-income, first-generation sector.
Foster added that the students' needs are such that the food drive will be extended into TSTC's Spring 2018 semester, although donations are accepted year-round.
The TSTC Staff Senate accepts both food and monetary donations. For more information, call 956-364-4023.