(HARLINGEN) –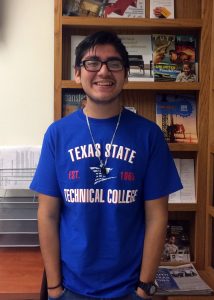 Omar Reyes is working toward an associate degree at Texas State Technical College in Computer Systems Management Technology. The Raymondville native is expected to graduate in Fall 2018.
When the 19-year-old is not studying or completing lab assignments, he is employed as a work study in the TSTC Talent Management and Career Services office and volunteers with the Intramural Sports Club.
What are your plans after graduation?
After I graduate I hope to start working as a computer maintenance technician and save enough money to continue my education and get a bachelor's degree.
What's your dream job?
My dream job is to someday work as an information technology technician with Apple or Samsung.
What has been your greatest accomplishment while at TSTC?
My greatest accomplishment while at TSTC has been receiving my very first job as a work study on campus. Plus, as a student it's convenient to work and study at the same place.
What greatest lesson have you learned about yourself or life?
The greatest lesson I have learned about myself is my ability to be a leader and have a passion for helping others. I discovered this about myself in my classes because instructors look to me to help other students. Also, in group projects I usually take the lead.
Who at TSTC has had the greatest influence on your success?
My instructor Jesus Herrera has had the greatest influence on my success. I have had him as an instructor every semester and he is always willing to lend a helping hand and answer all of my questions. He is also always willing to share his knowledge and experience with us.
What is your advice for future TSTC students?
My advice for future TSTC students is don't be afraid to ask for help from others. There is no shame in asking and there are no dumb questions.