(HARLINGEN) –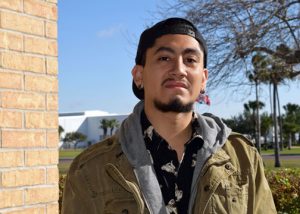 Harlingen native Jesus Hernandez is a Computer Systems Management Technology student at Texas State Technical College and expects to earn his associate degree this semester.
On top of maintaining a 3.4 grade-point average, the 21-year-old is also a student worker for the Office of Student Success as a Peer Mentor and volunteers around campus during registration rallies and new student orientations.
What are your plans after graduation?
After I graduate I hope to enter the workforce as an information technology (IT) technician and return to TSTC for an associate degree in Computer Networking and Security Technology or pursue a bachelor's degree at the University of Texas Rio Grande Valley in Computer Science.
What's your dream job?
My dream job is to work my way up the ladder and become a supervisor at a hospital and manage its IT department.
What has been your greatest accomplishment while at TSTC?
My greatest accomplishment at TSTC has been completing my Academic Core and becoming a peer mentor motivating other students and helping them through challenges they face.
What greatest lesson have you learned about yourself or life?
The greatest lesson I have learned is from my mother and that is that patience and kindness take you a long way.
Who at TSTC has influenced your success the most?
The person who has influenced my success the most is my supervisor Norma Salazar, TSTC director for Instructional Tutoring. She has guided me and supported me in my job and my studies. She's always willing to help and give advice. She is a great leader.
What is your advice for future TSTC students?
My advice for future and current TSTC students is to always keep an open mind, stick with your goals and work hard. It's rewarding to have the opportunity to learn something and later be able to practice it and teach it to someone else.