(HARLINGEN) –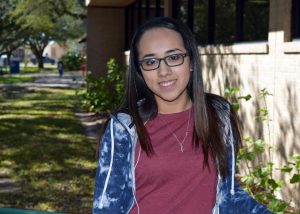 Jackeline Perez is an Education and Training student at Texas State Technical College. The 18-year-old holds a 3.7 grade-point average and expects to earn her associate degree in Spring 2020.
When the San Benito native is not busy studying she can be found volunteering around campus and the community with TSTC's Service Squad.
What are your plans after graduation?
After I graduate I plan on continuing my education at the University of Texas Rio Grande Valley to pursue a bachelor's degree in Bilingual Education. I will also look for employment at a local school district so I can work and gain experience while still in school.
What's your dream job?
My dream job is to become an elementary bilingual teacher. Although, a girl can dream, and it would be nice to someday pursue a music career as a singer.
What has been your greatest accomplishment while at TSTC?
My greatest accomplishment so far is my high GPA. I know that maintaining my good grades will help me cross the finish line and receive my degree.
What greatest lesson have you learned about yourself or life?
The greatest lesson I have learned was taught to me by my mother and aunt. They have always told me to never give up. If I fail I know to get back up, keep going and strive for my goals. This advice keeps me going when I'm struggling.
Who at TSTC has had the most influence on your success?
The person who has had the most influence on my success is Amanda Tamez, my Developmental Math instructor. Math is not my strong subject and she helped me get through the semester and understand the material. She did such a good job at teaching me that I ended up with an 'A' at the end of the course. Thank you Ms. Tamez.
What is your advice for future TSTC students?
My advice is the same advice shared with me: Don't give up, dust yourself off when you fall and keep going. At the end everything you work hard for is worth it.