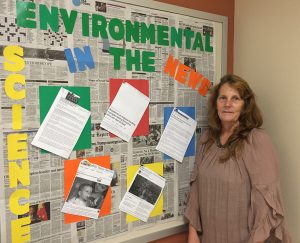 BRECKENRIDGE – Teresa Purcell was a pioneer, studying as part of the first cohort in the Environmental Technology program at Texas State Technical College in Breckenridge. Now, Purcell has come full circle to teach that same program.
The Albany, Texas resident began teaching in the Environmental Technology program at the start of the fall 2016 semester, and she said the program has grown quite a bit since its inception.
"When we started, we had one classroom and all of our equipment was in a closet," Purcell said. "To come here now to this lab they've built for the students and all of the different types of equipment, the opportunities are incredible. They train at every level possible so they can be able to go out there and say, 'hey, I've trained on that. I've learned that. I want to be part of that.'"
Purcell broke into the environmental field while working at a law office in Shreveport, La. A friend of hers joined the Environmental Technology program at TSTC and persuaded her to come along.
"I thought I would like to work toward environmental law, because I wanted to stay with the law aspect," Purcell said. "So we joined the program together. Once I graduated and got to experience a different field, I decided I was going to stay away from the law aspect of it because I enjoyed being outside and doing things for the community."
Purcell wanted to join the TSTC team for the camaraderie and to help guide students.
"When I went through the program, the staff and my classmates were like a second family," she said. "They were caring, always there for you no matter what. I wanted to become part of the team because I know they help the students succeed. We guide them in the direction they need to go. I just felt like TSTC was an opportunity to be able to give back to students and share my knowledge and experience with them."
Before working at TSTC, Purcell worked as a field chemist in Dallas, an environmental tech in Abilene, a senior environmental tech in Iraq and, most recently, a project manager in Port Arthur.
Purcell's favorite part of teaching at TSTC is doing hands-on work with the students.
"We've started quite a few projects here in the classroom, and being able to show them how to do this is great," Purcell said. "What I've heard is that we're the talk of the campus because of the things we're doing here. They're excited about the things we're doing. It makes me feel good. Twenty years ago I never thought I'd be here doing this."
For more information on TSTC's Environmental Technology program, visit tstc.edu.