(HARLINGEN) –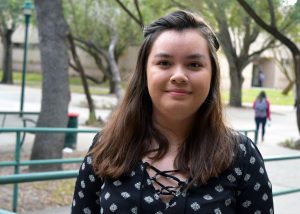 Samantha Gutierrez is studying Education and Training at Texas State Technical College and expects to earn her associate degree in Fall 2018.
The 18-year-old started as a dual enrollment student at TSTC, allowing her to get ahead of many of her classmates, while maintaining a 3.0 grade-point average.
When the Brownsville native is not busy studying she serves as secretary and an active member of TSTC's Association for Future Educators and participates in fundraisers and community service activities.
What are your plans after graduation?
After I graduate from TSTC I plan on continuing my education at Texas A&M University – Kingsville through TSTC's University Center and get a bachelor's degree in Early Childhood Education. I also plan on pursuing a master's and doctorate degree in Education and Psychology.
What's your dream job?
My dream job is to work as a kindergarten teacher in a big city such as Houston or San Antonio and eventually become a counselor or family psychologist for a school district.
What has been your greatest accomplishment while at TSTC?
My greatest accomplishment so far at TSTC has been becoming secretary of TSTC's Association for Future Educators. It has helped me gain professional experience that will look good on my resume and has given me the opportunity to organize fundraising and community service events.
What greatest lesson have you learned about yourself or life?
The greatest lesson I have learned is that I have no limits. I can do all things as long as I believe in myself.
Who at TSTC has influenced your success the most?
The people who have influenced my success the most are my Education and Training Instructors Mary Hollmann and Myriam Aguila. They are my biggest motivators on campus and always push me to be and do my best.
What is your advice for future TSTC students?
My advice for future TSTC students is to don't be scared of stepping out of your comfort zone and going for your dreams. You only have one life to live, so live it the best you can.