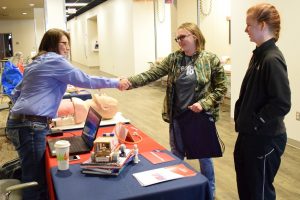 (BROWNWOOD) – Texas State Technical College in Brownwood held its annual open house Friday, opening its campus for tours and to meet with faculty. The event, designed for prospective students who want to learn more about the college, hosted han 50 visitors.
Jeannette Gist, TSTC director of Student Recruitment in West Texas, said they changed some things around this year and it was a success.
"This year we moved everything up and had it a little more condensed," Gist said. "I wasn't sure how that would flow, but I love it. I think it's so fun. People walk right into the party instead of having to walk down the hall to find the party."
Six people applied after visiting with employees.
"We have people who are genuinely interested in TSTC," said Devin Crenshaw, TSTC outreach representative. "That many applicants isn't common for this type of event.  We've also had a lot of people who have already applied and also want to go to the open house in Sweetwater."
Gist said all of the programs saw traffic.
"I saw people at every station," she said. "I think everybody had visitors today. Sometimes everyone is there to see one program, but there was a good mix. The more hands-on our programs can be, the better it is for the prospective student and also the faculty because it draws students. It's a richer experience for both."
Programs such as Diesel Equipment Technology and Environmental Science from TSTC's other West Texas campuses also met with students at the event. Visitors also got to learn about Electrical Power & Controls, Industrial Maintenance Technology and Welding Technology, which will begin in Abilene in the fall with the opening of TSTC's new Industrial Technology Center.
TSTC will hold open houses from 9 a.m. to 2 p.m. at its campuses in Breckenridge and Sweetwater on March 2 and March 23, respectively.
For more information on open houses, visit tstc.edu/openhouse. To learn more about the college and its programs, visit tstc.edu.