(HARLINGEN) –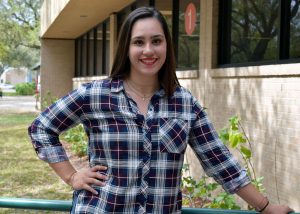 San Benito native Lonnie Martinez is completing her General Academic Core at Texas State Technical College. The 27-year-old holds a perfect 4.0 grade-point average despite the fear she had of returning to the classroom after being away for nine years.
The mother of five said she was nervous setting foot inside a college but knew she had to do it for her children.
"I want to be a good example and I want them to see me as a role model," she said. "I want them to see success and also aim for it."
Martinez currently works part-time as a provider, but she looks forward to the day she can say she has a career.
What are your plans after graduating?
After completing my academic core at TSTC, I hope to transfer to the University of Texas Rio Grande Valley to pursue a bachelor's degree in criminology and criminal justice.
What is your dream job?
My dream job is to become a police officer and advance my career in the field. I want to help the citizens of my community by preventing crime and getting criminals off the street. I also want to dedicate my time to helping less fortunate children and their families.
What greatest lesson have you learned about yourself or life?
The greatest lesson I have learned is about fear. Fear held me back for so many years, and I am becoming stronger everyday by facing it. Coming to TSTC has motivated me to keep trying by best; it has given me confidence and has allowed me to step out of my comfort zone.
Who at TSTC has most influenced your success?
The person at TSTC who has influenced my success the most is Student Life Supervisor Belinda Palomino. She is an amazing person full of motivation and she always gives me that extra push I need to believe in myself.
What is your advice for future TSTC students?
My advice for future TSTC students is to remember that education is the key to success. Also, do not be afraid to ask for help. I see many students afraid to ask questions, but the more questions asked the better chance we have at getting help from instructors and advisors to succeed.