(ABILENE) – Sweetwater native Marc Silvas went off to Texas Tech University to study to be a pharmacist but soon realized he was on the wrong career track.
"I wasn't enjoying it and I couldn't see myself being a pharmacist for the rest of my life," said Silvas.  "So I found myself back at home and working at my family's restaurant thinking about my life and doing some soul searching."
The 27-year-old's family owns a Tex-Mex restaurant in Sweetwater called Casa Morales. It was originally opened by his grandfather in 1980 in Rotan, Texas. After retirement his family moved the business to Sweetwater in 1990, where they have served the community since.
"I was in the kitchen cooking when I realized, 'Why not pursue a career in the culinary world?'" said Silvas. "I'm a restaurant kid, I've done this my whole life and I'm good at it."
Silvas said that was the best decision he had ever made. After completing program prerequisites and applying for the culinary program, he got accepted. He graduated from the TSTC Culinary Arts progr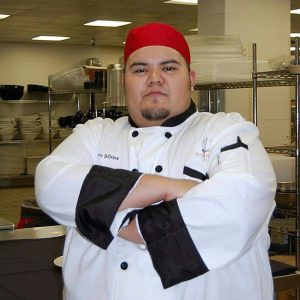 am with an associate degree in 2011.
"My time at TSTC was great and it prepared me and paved my way for the job I have now," he said.
Silvas currently works with Texas Tech's hospitality services as an Executive Chef for Top Tier Catering, the university's in-house catering company.
"Getting this job was definitely a whirlwind of emotions for me because I received the offer before even receiving my degree," Silvas said. "It all happened so fast, but it's like I say, you get what you put into something. And I gave everything to be successful in the culinary program."
The executive chef said the education and training he received at TSTC is invaluable. He said the real-world experience of running a lunch and dinner service as a class for the college and community was instrumental in his success.
"During this time we would all shift restaurant roles," he said. "So one day I was cooking, the next bussing tables and the next working as wait staff. It's important to learn every role and TSTC provided that experience."
Silvas credits much of his success to two of his instructors Chef Sandy Davis and Chef Coby Baumann.
"They invested so much of their energy and time in me and my success," said Silvas. "It means a lot to me that they cared about my development and always pushed me to do my best."
Ultimately, Silvas said he would like to teach others and also help them find success in the culinary industry in addition to someday owning his own butcher shop.
In the meantime, Silvas is preparing for his Certified Pastry Chef exam in July. He already holds two additional certifications: Certified Executive Chef and Chef de Cuisine.
David Deason, Silvas' supervisor and associate managing director of Hospitality at Texas Tech said he was impressed with Silvas the first time he met him.
"Marc is so young, but so talented in the kitchen," Deason said. "He has worked side by side with some of the best trained chefs from f the biggest culinary institutes and he is respected by all. He definitely has a bright future and a home here with us as long as he wants to stay."
Silvas said he wants current or future TSTC students to always find networking opportunities.
"Get involved in your community, no matter your major," he said. "Sometimes it's about who you meet and know that will give you your break. I know it definitely made a difference for me when I met my current boss at an event I was cooking for."
For more information on TSTC Culinary Arts call 325-670-9240.