(HARLINGEN) – Alandra Avelar is pursuing classes in engineering and physics at Texas State Technical College. She earned her associate degree in Mechatronics Technology from the college in 2016 and currently boasts a 3.7 grade-point average.
The Brownsville native said she remembers being four or five years old and wondering how all of her toys work and breaking them to inspect the inside gears. Although her interest in engineering began at a young age, the 21-year-old added that the thought of pursuing engineering as a career did not begin u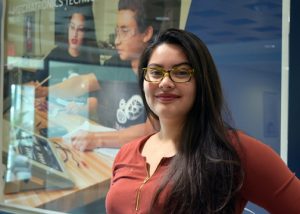 ntil she was in high school.
"My entire life, since elementary, I can recall teachers never believing I'd amount to anything but high school changed that," she said. "So this is my chance to prove them wrong."
What are your plans after graduating from TSTC?
I will be completing my courses here at TSTC this summer and in the fall I will begin pursuing my bachelor's degree in Mechanical Engineering at Texas A&M University.
What's your dream job?
After graduating I would like to experience work and life on an oil rig and positions in the industrial arena. Ultimately, though, I would like to be a mechanical engineer for corporate companies managing system controls.
What has been your greatest accomplishment while at TSTC?
Besides graduating with my associate degree, – I would have to say my other great accomplishment was being able to balance a full-time course load and two part-time jobs I needed to pay for college.
What greatest lesson have you learned about yourself or life?
These past three years have been quite a journey, there have been a lot tears. I have learned that as long as I apply myself, stay focused on my goal and continue doing my best, I will succeed and can get through anything. It may be a crazy ride but I am pursuing my dream.
Who at TSTC has influenced your success the most?
The person at TSTC that has influenced my success the most is Financial Aid Assistant Director Tillie Flores. College is expensive and I knew my family could not afford it but she helped me find scholarships and grants that have left me debt-free. I have no words on how her help has shaped my life.
What is your advice for future TSTC students?
Focus on your goal and do not let what is going on distract you from that. People will try to get you down, but do not let them, be strong minded. And always remember that everything you do will be worth it in the end.