(SWEETWATER) – Local high school students had the opportunity to work side-by-side with Texas State Technical College Automotive Technology students during the college's first Auto Tech Day.
The event was focused on recruiting students to TSTC's Automotive Maintenance and Repair dual enrollment pathway – an educational initiative that allows high school students to take college courses.
"We want to make sure students are aware of the college opportunities available to them while still in high school," said TSTC Manager of Dual Enrollment for West Texas Rene Rolston.
Students at the event were treated to breakfast and got to hear from TSTC West Texas Campus Provost Eliska Smith, TSTC Automotive Instructor Henry Ortega, TSTC Automotive Division Director Mark Koslan and TSTC Automotive Advisory Board member and owner of J&M Automotive in Sweetwater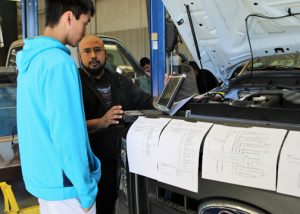 Josh Waldon.
After presentations, the high school students were paired with TSTC students to get hands-on experience in areas such as air conditioning, diagnostics, brake repair and engine maintenance and repair.
"When choosing a career path it's important to know what you're getting into," said Rolston. "And there's no better way than having an event dedicated to exposing students to a field and giving them an opportunity to experience it hands on."
Rolston said she hopes this event will encourage students to pursue this pathway because there are benefits to enrolling in dual enrollment courses.
"When a student enrolls in dual enrollment they are saving themselves time and money in the future," she said. "When they complete the pathway they have one semester under their belt."
TSTC currently has 43 school districts that are utilizing the dual enrollment pathway for its junior and senior high school students in Sweetwater and surrounding counties, including nine online pathways for those who are too far to travel to campus.
Dual enrollment classes are typically offered Monday through Thursday from 8 a.m. to 10 a.m. on the TSTC campus.
"We have students as far as 250 miles away taking dual enrollment courses through TSTC," said Rolston. "So our online pathways make dual enrollment a reality with us when students live too far but want to take advantage of this great partnership."
For more information on the dual enrollment Automotive Technology pathway call 325-235-7319 or go online at tstc.edu.