(HARLINGEN) – Nicholas "Nick" Trevino is an Aviation Maintenance major at Texas State Technical College. He will receive his associate degree in Aviation Maintenance-Airframe in December 2017 and will return to pursue a second associate degree in Aviation Maintenance-Powerplant.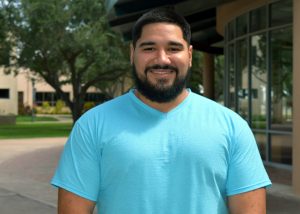 The Kingsville native currently boasts a 3.7 grade-point average and is employed as a works study with the Talent Management and Career Services office.
The 22-year-old said after nearly four years in the oil and gas industry it feels good to be back in school following a career path and added that it was his uncle, also a TSTC alumnus, whose advice played a huge part in his return.
What are your plans after graduation?
After I graduate I hope to start my career at L3 Technologies in Kingsville, a contractor in aerospace systems, security and detection systems and pilot training used by military, homeland security and comer platforms. I also plan on returning to TSTC to pursue an associate degree in Welding Technology.
What's your dream job?                           
My dream job is to work with L3. In addition to its great benefits, the company offers travel opportunities with its locations spanning across the United States and internationally. There is also room to grow my career and grow as a professional within the company.
What has been your greatest accomplishment while at TSTC?
My greatest accomplishment at TSTC has been finding my path, establishing career goals and maintaining my grades. It's makes me proud knowing I can call my mom at any time and share my test scores and grades with her and know that I make her proud too.
What greatest lesson have you learned about yourself or life?
I have learned that while we can make plans, life will always throw a curve ball and nothing will go as planned. So I've learned to go with the flow and learn from my mistakes and experiences.
Who at TSTC has had a large influence on your success?
The people who have had the largest influence on my success are my peers, the people I've met in class. We all have a group chat going and remind each other about homework, due dates, tests and form study groups. Not only do we get our work done, but we also have fun outside of the classroom as friends.
What is your advice for future TSTC students?
I advise students to always go for the goal. If you have a dream, like I did about coming back to school, but it seems impossible, try it anyways. And remember, everything is possible because the people here at TSTC are always willing to help you and they want to see you succeed.