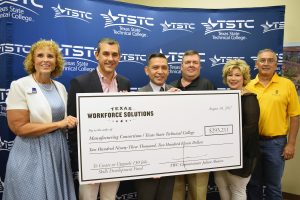 (TEMPLE) — Texas State Technical College has partnered with a manufacturing consortium including The Butler Weldments Corp., Reynolds Consumer Products LLC and Temple Bottling Co. to train 130 new and incumbent workers using a $293,211 Skills Development Fund grant.
Texas Workforce Commissioner Representing Labor Julian Alvarez presented the check to officials from TSTC, Butler Weldments, Reynolds Consumer Products and Temple Bottling Co. at an 11 a.m. ceremony today at the Temple Economic Development Corporation's Board Room.
Steven Dobos, president of Butler Weldments, said the company is excited to get more training for employees.
"It's a win-win for everybody involved," Dobos said. "Skilled labor has been very difficult to find lately. What better way to bring about a solution for us than customized in-house training for our employees. It's a phenomenal thing to do."
Kyle Butler, plant operations manager at Temple Bottling Co., agreed.
"Our employees are primarily unskilled and this is going to go a long way," he said.
Rick Villa, plant manager of Reynolds Consumer Products, said they've tried several other training programs, but they didn't work for the company.
"This is the first program that we've really been able to lock our teeth into," Villa said. "We're training our operators to become mechanics, our mechanics to become electricians, and taking our electrical skills up in the plant. You need to bring those skills along if you want to be successful."
Commissioner Alvarez said the training provided is necessary with changing technology.
"Each person that spoke today mentioned that skills have changed," Alvarez said. "The face of manufacturing has changed. We're talking about technology and terminology that didn't exist before. It's changed. Times have changed and the folks on the receiving end of this grant know that the change is coming. And so, the fact that they're talking about keeping up their skills and keeping up with today's technology says a lot."
Charley Ayres, vice president of the Temple Economic Development Corporation, said the grant speaks to the sense of community in the area.
"It's exciting to know that this grant doesn't just involve Temple companies, it also involves our neighbors in Cameron," Ayres said. "We work together very closely to try to make our businesses more successful. We understand that what happens in Cameron makes Temple better. That workforce makes us all stronger in our region.
The Skills Development Fund is one of the state's premier job-training programs, keeping Texas competitive with a skilled workforce. Commissioner Alvarez said the grant would have an overall impact of $4 million.
Workers trained will include 35 new hires, and 95 jobs will be upgraded. Workers will be from Temple-area plants and will be trained in the areas of production, maintenance, mechanical and support occupations. Trainees will include machinists, maintenance technicians and production workers, and training will be provided by TSTC instructors. After completing the training, workers will receive an average hourly wage of $20.90.
For more information on TSTC's workforce training, visit tstc.edu.