(HARLINGEN) – Ashley Gonzalez is an Education and Training student at Texas State Technical College. She expects to receive her associate degree Summer 2018.
The 19-year-old, Los Fresnos native also serves as TSTC's Student Government Association Treasurer and works as the TSTC Game Room lead attendant.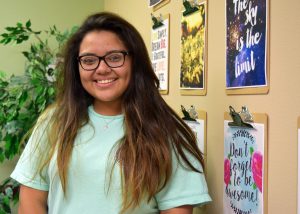 What are your plans after graduation?
After graduating I plan on transferring to Texas A&M Kingsville to pursue a bachelor's degree in teaching, specializing in special education.
What is your dream job?
My dream job is to be able to become the kind of teacher that changes lives and makes a difference. Someday though, I hope I can become a school counselor or an instructor teaching others how to be great teachers.
What has been your greatest accomplishment while at TSTC?
My greatest accomplishment while at TSTC has been becoming treasurer of the Student Government Association. It was a task out of my comfort zone, but getting involved has really opened my eyes to the opportunities that are available beyond the classroom and has allowed me to grow as a person.
What greatest lesson have you learned about yourself or life?
The greatest lesson I have learned is to not give up, no matter the situations life throws at you. Like almost everyone, I've had to overcome obstacles and that's why I have a semi-colon tattoo that reminds me to keep going every day.
Who at TSTC has had the greatest influence on your success?
My brother and TSTC Biomedical graduate Roel Gonzalez has been my greatest influence. I saw how much school was a struggle for him, but he kept going and finally graduated with a job offer. In everything he does he perseveres and that is why my brother is my hero.
What is your advice for future TSTC students?
My advice for future TSTC students is to get involved on campus through clubs and volunteering. It really helps you grow as a person and allows you to meet new people and make new friends. Also, study, study, study and do what you're passionate about.