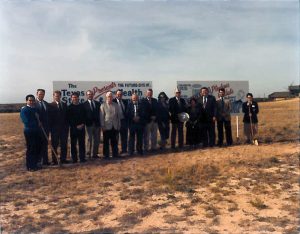 (SWEETWATER) – Texas State Technical College in Sweetwater will celebrate the 20th anniversary of "The Center," the campus' 36,000-square-foot recreational facility, with a commemorative ribbon cutting event at 11 a.m. Friday, Sept. 8, inside the building's Seminar Room.
Former TSTC President Homer K. Taylor, who served as manager of development at the time, said in the '90s TSTC exhibited a need for this building.
"First and foremost, our campus is somewhat isolated," Taylor said. "We are a few miles from town, so our residential students needed a place to be able to use. Prior to this building, our students had a small building where students had like two pool tables and some table tennis. The building was shared with health services and the Dean of Students office. It was a very small place for the number of students we had. Students needed a place to add winter-type intramural sports and a cardio/fitness center. We were also in the middle of adding more housing for students, so we needed a facility that resident students could use and enjoy."
Taylor said the facility not only filled a need for TSTC, but for the community as well.
"Dr. Clay Johnson, president of TSTC in Sweetwater at the time, had a dream to build a facility that was first class that both our students and the community could use and enjoy," Taylor said. "In pursuing the plans for the Student Center, Clay and I visited the Cooper Fitness and Cardio Center in Dallas and modeled parts of the facility after the Cooper Center. The Center (at TSTC) offered the community a public place that would have a cardio/fitness center, a workout facility and a public meeting place."
Maria Aguirre, TSTC executive director of compliance, agrees.
"The Student Center is a place the community has used since its opening," she said. "We've hosted banquets, proms, meetings, workshops, competitions, conventions, practices for basketball and so much more for many community organizations and companies. The Rotary Club of Sweetwater regularly meets in the Seminar Room and has done so for many years. The Student Center is at the heart of our community."
Since The Center was considered an auxiliary building, state funds could not be used to build it. A community-wide fundraiser was held to raise money to construct the building.
"This was the first time in Sweetwater to conduct a fundraising campaign to build such a facility," Taylor said. "In The Center, there is a plaque of early donors that made a pledge and financial commitment for this facility. The goal for this building was to raise about $1 million to $1.5 million for this project."
Aguirre said that even after 20 years, people ask if The Center is a new facility.
"The staff at the Student Center has cared for that facility very well," she said. "Most prospects or visitors to the campus give great compliments to our Student Center and are surprised to find out it has been around for 20 years."
Cake and punch will be served at the ribbon cutting. After the ceremony, attendees can also enjoy a lunch of grilled lemon pepper chicken or hamburgers for the discounted rate of $7.
-#-