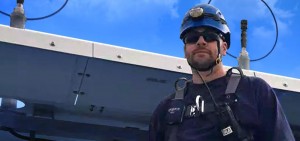 A drive through Kansas on his way to the Valley from Michigan led David Wheelock to make one of the best decisions in his life.
Today Wheelock works as a Wind Turbine Technician for Vestas American Wind Energy in Raymondville. But it wasn't until that drive about five years ago that Wheelock realized in what direction he was taking his life.
"I passed some wind farms in Kansas and was amazed at the size of the turbines and intrigued at the thought of working on them," Wheelock said. "Once wind farms started springing up everywhere down here, I began searching for schools where I could get my certification."
And that's when Wheelock looked into enrolling in the newly formed Wind Energy Technology (WET) Program at Texas State Technical College in Harlingen.
The WET Program was first started on the West Texas campus in 2006. Wind farms started popping up in South Texas around 2008 and that's when the TSTC leadership started looking into expanding the program to the Harlingen campus.
TSTC in Harlingen welcomed its inaugural cohort in the WET Program in summer 2010 and a year later opened up an extension campus in Ingleside following the development of wind farms in the Coastal Bend area.
"It was perfect timing for me," Wheelock said. "I enrolled in the spring of 2013 and began that summer.  Working in this industry and choosing TSTC has been a great fit for me."
Wheelock graduated from TSTC with a certificate in August 2014 but began applying for jobs up to six months prior to his graduation.
Wheelock ended up working for a subcontractor at Los Vientos in Lyford and remained with that Duke Energy-owned wind farm until getting hired by Vestas last November. After getting hired by Vestas, Wheelock traveled to the training center in Portland, Ore for three weeks then returned for more on-the-job training.
"The wind energy field is exploding…especially in Texas," Wheelock said. "Job opportunities are abundant and growing and working for Vestas has been a blessing. I have been exposed to many experiences that I had not been exposed to while subcontracting at the other site."
Some of Wheelock's duties include cleaning the turbine, torqueing bolts, greasing and changing out parts, working to repair parts in the hub, photographing damaged parts, and working on a torque and tension crew.
Wheelock is currently earning $42,000 yearly, not including overtime.
"In this industry, you generally get a fair amount of OT," Wheelock said. "Travel technicians can make quite a bit more as most are paid a pretty significant per diem while traveling."
Wheelock credits TSTC for preparing him to take on the daily rigors of being a technician.
"When I started in June of 2013, I had little to no experience with heights, safety, electrical, or hydraulics," Wheelock said. "TSTC's classes and curriculum exposed me to these and made the transition from school to work much smoother than it would have been otherwise."
Former WET Program Chair Enrique Carrillo remembers Wheelock and is glad to know he's doing well in the workforce.
"He was always very conscientious about the Wind Energy field and his work," Carrillo recalls. "He was very respectful and responsible and always knew what he wanted in the future."
Wheelock is happy with his certificate for now but hasn't closed the door to going back to school at a later date.
"You can get started in the field with a wind energy certificate but it doesn't hurt to consider getting your associates," Wheelock said. "It may help you in the future if you decide to pursue management or becoming an instructor."
To learn more about Wind Energy Technology, go to www.tstc.edu/harlingenwindtech.