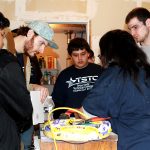 (HUTTO) – Students from Texas State Technical College's Industrial Electrical Systems program volunteered Thursday to help run electrical wire in a Hutto resident's home.
The job, part of a Hutto has Heart project, will help a local family make their home more accessible for their daughter, who has used a wheelchair since an accident last year.
Hutto has Heart provides assistance to families through requests for help, including car repairs, assistance with medical and utility bills, gas money, food, clothing and more.
TSTC recruiter and Hutto City Councilman Michael Smith said TSTC was excited to lend a hand for the project.
"Hutto has Heart's program coordinator reached out to us with the general need, and instructor Mike Jenkins, (TSTC Provost) Edgar Padilla and I sat down to make sure that we had the manpower and that our students would be properly prepared in time," Smith said. "Everything lined up, so we jumped at the opportunity."
Smith said the occasion presented a way not only to make Hutto aware of what TSTC students are doing, but also to help out in the community.
"It is great to give back, "Smith said. "We don't just have a building here in Hutto; we're part of the community and a responsible part of that is giving back and helping out when we can."
Industrial Electrical Systems instructor Mike Jenkins said the experience would benefit the students by learning on the job.
"They're getting hands-on experience," Jenkins said. "It's not what you get in the classroom under clean conditions. You actually see what it's like to come out and work around people's personal belongings."
Eight students helped to install the lighting and electrical power for the handicapped-accessible bathroom. Second-semester student Eddie Santos said he was glad to help.
"I wanted to help out other people," Santos said. "Our teacher told us about the situation, and us going out there to help was a good thing."
Santos said the experience helped him learn new job skills.
"Since the Sheetrock was already put in, we got to learn some of the remodeling aspects of the job," he said. "We've done wiring before, but it was before any of that was done, so we learned how to go over those obstacles."
Padilla said the school couldn't be more proud to partner with Hutto has Heart.
"We care about our community and are thankful for the opportunity to give back," Padilla said. "We want to offer a huge thank-you to our friends at The Home Depot in Hutto and the efforts of our students and staff."
TSTC will begin registering for the summer semester on April 3. The Industrial Electrical Systems certificate is a two-semester program that teaches students residential and commercial wiring.
For more information on TSTC's Industrial Electrical Systems program, or to apply, visit tstc.edu.