(HARLINGEN) – Kassandra Martinez is pursuing an associate degree in Business Management Technology. The Brownsville native expects to graduate Fall 2019.
The 19-year-old said it was at TSTC that she began to realize her dream of becoming a fashion designer and business owner.
"In high school I didn't know what I wanted to do with my life," said Martinez. "But after starting my business classes I thought why not combine it with my love for fashion and become a business owner. I finally felt like I had something to work toward."
When time permits Martinez volunteers with the TSTC Service Squad and the Wellness Sports Center.
What are your plans after gra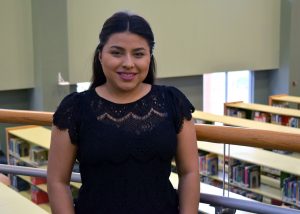 duation?
After I graduate from TSTC I hope to attend the Art Institute of California-San Francisco to earn a degree in Fashion.
What's your dream job?
My dream job is to own my own fashion business and with both degrees I know this is feasible. I want to design and sell clothing, shoes and accessories. I hope to grow this company nationally as well as internationally, because I've always dreamed about traveling the world.
What has been your greatest accomplishment while at TSTC?
My greatest accomplishment while at TSTC has been finding my dream and successfully passing my classes with A's and B's.
What greatest lesson have you learned about yourself or life?
I've learned patience. It's important to remember that things always fall into place and happen when they're meant to happen.
Who at TSTC has influenced your success the most?
My College Success Instructor John Hensley has influenced my success the most. At one time I was working and going to school full-time and I started falling behind in my courses. He was always there for me and he gave me advice. He taught me time management. This has been one of the greatest lessons he could have taught me because it will serve me well for  the rest of my life.
What is your advice for future TSTC students?
I advise future TSTC students to always go to class, be prepared, get involved and make friends. Your college experience is what you make of it.