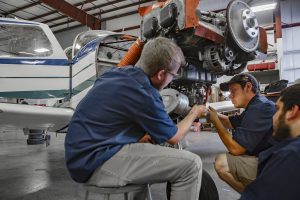 (ABILENE) – A local company is offering students in the Aviation Maintenance programs at Texas State Technical College a chance for hands-on experience and, after graduation, a job.
TSTC has partnered with Eagle Aviation to form a job pipeline, Aviation Maintenance instructor Brian Hahn explained. While in school students participate in Eagle Aviation's apprenticeship program and, after graduating and earning their Airframe and Powerplant license, are hired on full time as mechanics.
"The company has a number of slots dedicated for full-time employees," Hahn said. "And some of those slots are to hire specifically from TSTC. The track gets them in while they're still in school so they can become familiar with the aircraft."
The program began about 3 1/2 years ago, and the students complete the apprenticeship on their own time.
"There is no class requirement," Hahn said. "They work 25 to 30 hours a week depending on their schedule, getting paid at a non-licensed mechanic rate. It's a wonderful opportunity for them to get that real-life, hands-on experience on aircraft that are actually flying passengers."
Rania Rollin, who graduated from the Aviation Maintenance program in the summer of 2015, completed her apprenticeship and was hired as an aircraft technician. She said the apprenticeship was a great opportunity for her.
"It's so hard to get into the aviation industry without having somewhere to put your foot," Rollin said. "We worked with a certified mechanic and we would basically learn everything we needed to do. If we had to change fluids, we would change fluids. If we had to fix sheet metal, we would take it out and shoot rivets. Pretty much anything a normal mechanic would do, we got the opportunity to do it."
Rollin spent a year in the program and was relieved to have a post-graduation plan.
"It felt secure," she said. "It's a small area out here in Abilene, so not having to move to a bigger city was nice. I have my husband and we have a kid, so it was nice knowing that I could help support them."
Harley Hall, managing director at Eagle Aviation, said the company usually has five to seven TSTC apprentices going through the program at one time. The program helps Eagle Aviation with employee turnover.
"We've had a large attrition rate over the years," Hall said. "People coming from out of state want to move to be closer to their families; we can't keep them. This kind of 'Home Grow 'Em' program helps because most of the TSTC students are from the Abilene area. Plus it gives them an avenue to know they have a job waiting for them at graduation."
Hall said the rates of students becoming licensed and getting hired have been very high.
"Ninety to 100 percent of the students now are getting their A&P license and coming to work for us," he said. "They're definitely turning out to be some of our better workers."
Rollin is grateful for her experience at Eagle Aviation.
"It's a great learning experience," she said. "The planes aren't incredibly small, but not incredibly large either, so you have an opportunity to learn every part of the aircraft. I've learned a lot of different things."
Eagle Aviation currently employs about 15 TSTC graduates as mechanics.
For more information on TSTC's Aviation Maintenance programs, visit tstc.edu.