(FORT BEND) – Texas State Technical College recently hosted its first Community Resource Fair to serve the students and the residents of Fort Bend County.
The fair focused on health and wellness and finance, hosting six businesses: 24 Hour Fitness; Texana, Mental Health Agency; Frost Bank, Fort Bend County Sheriff's Office; Access Health, a medical facility that provides affordable healthcare to those with or without insurance; and TSTC's Veteran Services.
The businesses set up in the entrance of TSTC's Industrial Technology Center, providing information and guidance for those needing or having an interest in their services.
Director of Student Services Georgeann Calzada said this event was held with the students' needs in mind. Every business at the event is located within a 10 to 15-mile radius from the campus, also giving students the benefit of proximity.
"We want our students to be healthy and make good financial decisions," said Calzada. "We encourage healthy lifestyles and I'm so glad all of these businesses were willing to help us."
Calzada said she hopes stude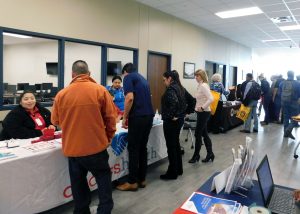 nts found the information they received useful and that they will take advantage of the services that were offered during one-on-one conversations between students and the company representatives.
"Many of the students and even faculty and staff on campus, can benefit from these services," she said. "We hope to make this a yearly event and grow the partnerships we have with our local service-orientated businesses around the county."
During the event, TSTC staff also encouraged students to register for the college's Emergency Notification System (ENS), an alert system that utilizes phone calls, text messages and emails to send notifications in case of inclement weather or dangers around the campus.
"Safety at TSTC is our number one priority," said Calzada. "It's an important factor at school, work and in life."
Calzada said students can expect a Spring Break Awareness Fair in the coming month to provide students with the information they need to stay safe during the one-week break from classes.
For more information on the services offered to TSTC students or to sign up as a business partner, call 364-239-3422.