(SWEETWATER) – Texas State Technical College Housing student Zachary Reece will be having a little extra money in his pocket beginning Fall 2017.
TSTC has announced it will reduce the cost of living on campus between $130 and $140 to assist students in lowering their expenses.
Reece, a Diesel Equipment Technology student pursuing a certificate, says that being a full-time student means living on a tight budget. .
"I think what TSTC is doing is a really good idea," said Reece. "This helps me lower my spending and any bit of money saved goes a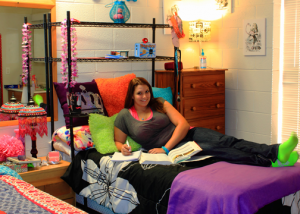 long way when you're a college student."
The Olney native has lived in a dorm at TSTC since January and said he is glad the college is doing something extra to help its students.
"We know that college is a big investment," said TSTC West Texas Housing Director Jose Navarrette. "And we believe this change will help students save some money and focus more on school."
Like Reece there are another 216 students living on TSTC's Sweetwater campus working toward the same goal: finishing college.
"Our goal as a college is to graduate students and get them good paying jobs," said Navarrette. "We feel that by alleviating some of the financial stress, they'll fulfill their goals and that of the college."
Associate Vice Chancellor of Auxiliary Administration Kevin Dorton said the initiative of reducing housing costs began about a year ago as a way to spur enrollment.
"This is a cost-savings solution for our incoming and current students," said Dorton. "Our goal is to offer our students affordable housing options. In return, we believe this will increase our enrollment and the number of students living on campus."
Students in Sweetwater have housing options: a dorm room and student apartments such as Bluebonnet Inn, all of which are shared with other students. Those living on campus also have a meal plan included in their rental package. Internet, cable and utilities are also included.
"Our goal is give our students a comfortable place to call home," said Navarrette. "We want them to be relaxed and have food on their tables so they can enjoy college."
Dorton said the housing cost reduction is isolated to West Texas at the moment, but there are studies and research being done for the college's other campuses.
For more information on TSTC Housing call 325-235-7368.
Registration for Summer and Fall 2017 is already in progress. For more information on TSTC programs offered near you go online at tstc.edu.