(HARLINGEN) – Courtney Vasquez, a dental hygiene student at Texas State Technical College recently received the Most Active Club Member award during the college's Student Leadership Banquet for her active participation as treasurer in the Student American Dental Hygienist Association on campus.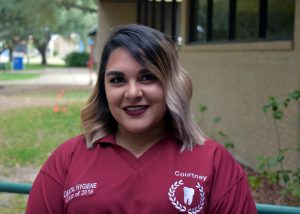 As treasurer and an active member of the club, the Lyford native does volunteer work throughout her community and leads fundraisers.
The 23-year-old is expected to graduate with an associate degree May 2018.
What are your plans after graduation?
After I graduate I want to find a job as a hygienist at a local dental clinic and start saving money to purchase land, farm animals and my dream house. I eventually want to move to San Antonio and pursue a bachelor's degree.
What's your dream job?
My dream job is to work as a hygienist and help patients learn the importance of oral health care and give them a beautiful smile.
What has been your greatest accomplishment while at TSTC?
My greatest accomplishments while at TSTC are making the Vice President's List for my good grades and knowing that I have made a patient happy at our TSTC Dental Hygiene Clinic that is open to all TSTC personnel, students and the community.  
What greatest lesson have you learned about yourself or life?
The greatest lesson I have learned is that sometimes life is discouraging and knocks you down, but you should never give up. You always wake up the next morning and do what you have to do to make your dreams come true.
Who at TSTC has had the great influence on your success?
All of my instructors have had a huge influence on my success. They are my role models and the dental hygienists I aspire to be. They all have unique qualities that I look up to and a knowledge and know-how that help us all succeed.
What is your advice for future TSTC students?
My advice for future students is to continue your education no matter how hard it gets. Education is an important part of life. It leads to good careers and a better understanding of the world around us. Never give up.