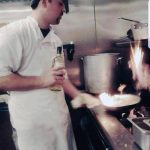 (ABILENE) – San Antonio bakery La Panadería has something new cooking, and Texas State Technical College Culinary Arts graduate Travis Duttry is the chef behind the fire.
The 2014 graduate was hired last month as head chef for the soon-to-open restaurant and has been busy readying operations since.
"It's slightly chaotic right now," Duttry said. "I've been working on writing the menu, getting recipe books set up, making sure that everything is delivered properly — we're still getting equipment coming over from Europe, and I've put up a few ads for hiring here in San Antonio. We're just running straight forward trying to get everything set up."
But success didn't come easy for the chef. Duttry says hard work was what got him where he is today.
"I've been working two jobs for the last six years or so," he said. "I always thought I could get more experience working two jobs rather than one. While going through school I probably cooked more than I slept. I was working almost 100 hours a week."
Culinary instructor Kayleen Moon said Travis definitely showed initiative.
"He commuted for class and had better attendance than those who lived in town," she laughed. "I'm so impressed that he got a job as a head chef with a certificate. He asked a lot of questions in class and cross-trained outside of school. It screams potential."
Duttry, a Brownwood resident, chose TSTC for its proximity to home and traveled to school in Abilene.
"TSTC was the closest school to me, and I didn't want to owe a lot of money when I graduated," Duttry said.
He enjoyed his experience at TSTC.
"Chef Kayleen Moon was awesome. She was very informative," Duttry said. "I always felt like I learned as much in school as I learned out of school. There are certain things I learned there that I would have never learned in a small town, like the classic mother sauces and steak au poivre. Stuff like that I never would have learned in a small town, but I got to learn those skills there, use those in the professional world and build on what I learned in school."
Duttry enjoys cooking what he likes to eat.
"Anything that's Italian; Mexican food, and I don't mean Tex-Mex, but traditional Mexican food; upscale bar food; and classic comfort food — that's what I like to cook."
Set to open Friday, the downtown San Antonio location will be the second store for La Panadería and will be located at 301 E. Houston St.
Duttry recommends that culinary arts students and aspiring chefs get as much experience as they can.
"Do your best in school and outside of school," he said. "Try to find a nicer restaurant to work in so you can implement what you learned in school. The things you learn at work and in school, they're going to build off of each other. And you make money while you're doing it!"
TSTC is registering now for the fall semester. For more information on TSTC's Culinary Arts program, visit tstc.edu.
-#-