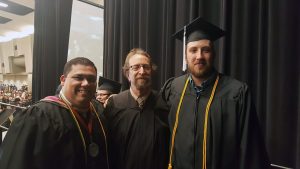 (HUTTO) – When Texas State Technical College welding graduate James Gnuschke walked the stage on May 1, he made one TSTC instructor a little more proud than the rest of them. James' father, Industrial Maintenance instructor Allen Gnuschke, beamed with delight as his son accepted his diploma.
Lifelong interests and a job loss in Colorado led the Gnuschkes to TSTC, where James wanted to pursue a certificate in welding.
"I did some pipeline work and stuff like that a few years before I came down here. The welding side of it always really piqued my interest," James said. "It was always something I wanted to try. I ended up getting laid off from the heavy equipment job I had in Colorado, and we came down here to pursue new careers."
James said a love of working with his hands and watching his dad work made him want to learn a trade of his own.
"My dad has always had jobs where he works with his hands, building and repairing," he said. "I've always looked up to my dad and enjoyed working with him on projects when I was younger. It kind of inspired me to follow the same kind of work."
James, who has been hired as a structural rig welder for a private contractor, will begin his new job this week. James was hired on at a pay rate of $40 an hour and will also earn an additional $15 per hour for use of his truck.
"After TSTC, I feel like I'm pretty well prepared to work," James said. "I like working outside and having a trade that not everybody can just pick up and do."
Though James chose to study welding instead of his father's program of Industrial Maintenance, Allen said the two programs go hand in hand and work well together.
"Welders are handy people to have around," Allen said. "It's kind of a complementary thing. We've worked together on some projects here. We've actually built several rigs for students here. It's a good match."
The duo teamed up as part of a Hutto Has Heart project to continue the legacy of a Hutto resident whose dream was to raise a cross at the Hutto Lutheran Church. TSTC Provost Edgar Padilla said students and staff from TSTC worked on the project for a couple of days.
"There was a gentleman in Hutto who passed away and his dream was to build a cross at the Hutto Lutheran Cemetery from metal that had been scrapped from The Gin here in town. His family was looking for somebody to finish his dream," Padilla said. "We decided that, to be consistent with our community efforts, we could help with that in some way. So we wrangled up a few of the guys and went out there. They went out to the site and built the cross, ground it, welded it together and erected it. Now the Hutto Lutheran Church has a beautiful cross that's going to be there for a long time."
Padilla said it was inspiring to see the Gnuschkes work together.
"This project was a glaring example of not only TSTC's commitment to the community, but also the power of two generations, a father and a son, working together side by side and doing something that requires so much skill," he said. "It was really nice to see that."
As for Allen, he said he has nothing but pride for his son.
"At graduation, the population in the room went to two," Allen said. "They could have been throwing tomatoes for all I know. Have you ever seen the movie 'The Patriot'? When they're going on about who's the better man, and Mel Gibson says, 'No, my sons were the better men,' that's how I feel."
James urges those who are thinking about a technical career to "just do it."
"There are a lot of people that spend too much time overthinking things and making bigger problems than there should be," he said. "I had a gut feeling and just went for it, and I've loved it ever since."
TSTC is registering for the fall semester through Monday, Aug. 21. Interested in registering, but aren't sure how? TSTC will host three Registration Rallies to help students through the registration process beginning Wednesday, June 21. For more information on the rallies, TSTC's welding program or the college, visit tstc.edu.