(HARLINGEN) – With only one income and a two-year-old son, money is tight for Texas State Technical College Auto Collision Technology student Justin Maldonado.
However, the Harlingen native turned his luck around when he applied for and received a $1,000 Service King scholarship which can be used for tuition, room and board, books and tools.
Service King is one of the largest collision repair centers in the county with 178 locations in 20 states and works closely with the Collision Repair Education Foundation to provide scholarships like the one Maldonado received.
"I was so excited when I found out I had been chosen for this," he said. "I never win anything. I'm so eager to get the tools that I need."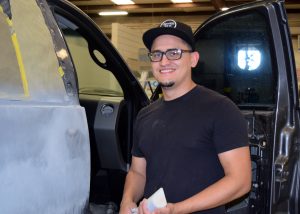 The 24-year-old said he is so thankful for the opportunity that Service King has provided for him and his family.
"My wife is the only one working right now, so with this money I can buy tools and get small jobs to help her out," said Maldonado. "And once I graduate I'll be ready to work."
TSTC Auto Collision Technology Instructor Jose Vasquez said that he knows this award has already had a huge impact on Maldonado's life.
"I'm very proud that he has won this award," said Vasquez. "As an instructor you want the best for your students and in Justin's case this money allows him to fulfill goals toward his success and future."
Vasquez added that Maldonado is an all-around, exceptional student who is always willing to lend a helping hand.
"His willingness to help others in class shows the kind of responsible and compassionate person he is," said Vasquez. "He not only thinks about his success, but also about the success of others. He's a true leader."
As for Maldonado's future, he said he will hopefully find a good-paying job that will support his family and will allow him to save money to start his own business.
"I have always loved repairing and painting cars so I know this is what I'm supposed to be doing," he said. "I have so many ideas and this program and scholarship have given me a foot in the door to a career I love. A career that will let me support my son and better myself."
To learn more about Auto Collision Technology at TSTC's Harlingen or Waco campuses or to apply or register for Fall 2017, visit tstc.edu.