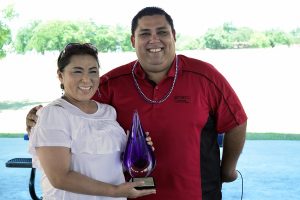 (HUTTO) – Employees at Texas State Technical College celebrated Employee Appreciation Day on June 19, a day that included fun for employees and awards for employees of the year.
Etsuko Martinez, senior staff assistant who has worked at TSTC for 2 1/2 years, was chosen by her colleagues as Staff Member of the Year. The Hutto resident was excited to hear of the news.
"It was definitely unexpected," Martinez said. "I was honored and glad to be chosen."
Employees of the campus submitted nominations for the award, and the final winner was chosen by a committee.
Employees had great things to say about Martinez, with one teammate writing, "Etsuko is dependable, efficient and unfailingly punctual. In fact, I have never worked with a person who gives as much attention to detail as she does … She also projects a warm, cheerful attitude to our students, staff and faculty. She loves people, works hard and always tries to lift the spirits of those around her. I believe these characteristics represent all that is good about TSTC."
Another comment reads, "Etsuko has helped me to learn my job, and she continues to be available whenever I need advice. Etsuko always handles her work with thoroughness."
Martinez prides herself on being able to assist her co-workers.
"I'm happy when I'm able to help somebody," she said. "I feel accomplished."
She reflected on a time last year when her co-workers put together a gift for her after her father passed away.
"I went back home to Japan last November for my father's memorial service, and they gave me a very thoughtful gift," she said. "That was really sweet of them. I really feel the support all the time, and that's why I always want to give back to TSTC. We're family!"
TSTC touts itself as being "a great place to work" and is currently hiring for over 90 positions at its 10 campuses statewide. For information on open positions at TSTC, visit tstc.edu/about/employment.