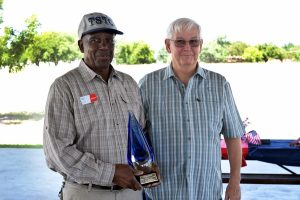 (HUTTO) – Employees at Texas State Technical College in Williamson County celebrated Employee Appreciation Day on June 19, a day that included fun for employees and awards for employees of the year.
George Fields, an Industrial Electrical Systems instructor who has worked at TSTC for six years, was chosen by his colleagues as Faculty Member of the Year. The Greenville, Texas, native was excited to hear the news.
"It was satisfying," Fields said. "I like interacting with the students and helping them reach their goals. What they said they're giving me the award for is what I try to accomplish, so it feels like I did what I set out to do."
Fields is on his third career. The veteran retired from the Navy after serving 20 years in the military – seven years in the Army and 13 in the Navy. In the military, he served as an electronics technician. He then went on to a supervisory role and, in his last tour, taught electronics. Fields later worked as a Facilities Maintenance and Services Supervisor in shopping malls, where he stayed for another 18 years before retiring again.
Fields set out to be a teacher after working as a supervisor and realizing that there were certain skills he wanted his workers to know on the job. He began teaching at a prison in 1996.
"You like to see people reach and surpass their ability to do their job," he said. "You know what you want them to know. You know the type of training you want them to have. It's not that they aren't already receiving good training. But are they getting the right training?"
After the prison, Fields taught at Blinn College and in 2011 made his way to TSTC. But teaching wasn't his first experience with the college; Fields had attended TSTC in Waco in 1983.
"I had been working at the mall part time and going to school part time," Fields said. "I went down to Waco and found out about TSTC and enrolled. After about two semesters, they asked me to go back to the mall as a facilities maintenance and services supervisor."
In his short time there, TSTC made an impression on Fields, and once he began teaching, he made it his goal to return to the college.
"That was a goal of mine, to come back to TSTC as an instructor," he said. "I said if I got that opportunity that I would, and the situation was ideal. It was a brand-new school. They needed old folks like me who knew how to get something started. So I got to get in on the ground floor and see this program start and grow."
Employees of the campus submitted nominations for the award, and the final winner was chosen by a committee. Employees had great things to say about Fields, with one teammate writing, "Invaluable knowledge, invaluable resource, years of dedication and solid as a rock! He's an example to us all to keep raising the bar and never stop!"
Another comment reads, "Mr. Fields is an advocate of the student and a consummate professional. If he tells you something, you can trust it is correct. He is there for the other instructors as well."
Fields is a​ graduate of Saint Paul High School in Neylandville, Texas. He earned his bachelor's (2000) and master's degrees​ (2002) from Texas A&M University Commerce.
TSTC touts itself as "a great place to work" and is currently hiring for over 90 positions at its 10 campuses. For information on open positions at TSTC, visit tstc.edu/about/employment.