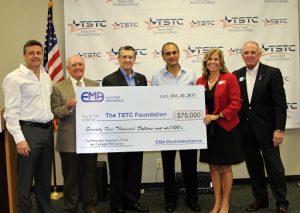 (SWEETWATER) – EMA Electromechanics donated $75,000 to Texas State Technical College in a check signing ceremony Friday, Oct. 20. The donation brings EMA contributions to TSTC to a total of $150,000.
The gift funds an account called Sweetwater Veteran's Funds for College Education, which was established in 2015 when EMA gave the first gift of $75,000. Funds will go toward helping veterans complete their technical training at the college's West Texas campuses in Abilene, Breckenridge, Brownwood and Sweetwater.
EMA created the account as a way to honor area veterans.
"We want to give back to them for what they do for us," said EMA Manager Gabriel Acosta. "The way we see it is that we enjoy freedom in the U.S. because of their efforts."
Since 2015, 36 veterans have benefited from the Sweetwater Veteran's Funds for College Education. TSTC currently serves 68 veterans across its four West Texas campuses.
EMA hopes the gift will ease the transition veterans face when returning from service.
"The purpose of this gift is to make sure that they have a chance to go back to civilian life with some help if they need some, to go back and get a career or improve their knowledge," Acosta said.
Robert Schneider, an Air Force veteran who is an Automotive student at TSTC, was one of the recipients of the scholarship.
"I will forever be grateful for EMA being a helping hand in a time of need," Schneider said. "I probably speak on behalf of many veterans when I say thank you. Being able to receive help from this company has lifted a lot of burden off of my shoulders at very crucial times."
EMA was founded in 1952 in Argentina, but in 2010 it expanded to open its Sweetwater location, where it develops and manufactures specialized electromechanical equipment for wind generation.
TSTC Interim Provost Rick Denbow said the college is grateful for EMA and its contribution.
"TSTC is very thankful to EMA Electromechanics' gift to our veteran students," said Denbow. "Relationships like these not only strengthen TSTC, but bolster our students and community as well."
For information on making a difference for TSTC students, visit tstc.edu/tstcfoundation.
-#-