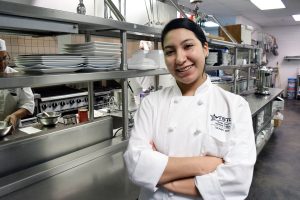 (ABILENE) – Gissell Lomas Tavarez, a Texas State Technical College Culinary Arts student, recently was awarded a $2,500 grant from the National Restaurant Association.
Tavarez said the application process involved completing a Free Application for Federal Student Aid (FAFSA), writing an essay and getting three letters of recommendation.
"It does take a lot of work, but I finished it, and the association was really nice," Tavarez said. "The essay, if you like doing what you do, you'll write brilliantly about it."
Chef Kayleen Moon, a TSTC Culinary Arts instructor, said that Tavarez absolutely deserved the grant.
"She's very diligent. She had to go through a few more hoops to get here than most," Moon said. "She's very independent and still manages to do well in school. I'm very impressed with her. She worked really hard to get this scholarship."
Tavarez said the money helped her take a break from work and focus on her studies.
"I was so excited," Tavarez said. "I knew I wasn't going to struggle as much. It's so hard because after a while you're like, 'How am I going to do it? I'll have to work more.' So I was happy to know that I can take time off work and focus on my school because I know I have that backup money."
She also used some of the money to help buy supplies for class.
"You think you're going to be able to use it on yourself, but you use it always for school. I thought, 'Oh, I'm going to buy myself something nice!' No," she laughed. "It really helped me get my books. Our pants and our shoes are done in like three months because we walk so much, and our knives are very expensive, so I used a lot of that money for that."
After Tavarez graduates in May, she hopes to help her mother grow her business, Rossy's Cafe, in the Texas Panhandle city of Hereford.
"My mom owns a little business already, and I think I want to expand it," Tavarez said. "That's why I came here, to get more of the information on how to actually manage it. I just wanted to take over a little bit because it is stressful owning your own business, very stressful. So I want to co-work with her, and hopefully we can do way more."
Tavarez said the cafe shows potential.
"It's a kind of diner place, very chill and relaxed, but there can be way more added to it," she said. "It's just hard when you're trying to pay for what you already have and expand. So hopefully after this I can help Mom make it bigger. I know it can be way bigger than what it is."
For more information on Texas State Technical College and the Culinary Arts program, visit tstc.edu.